10th Jul 2018
DNA Kids Makes The News With 50,000 Party Bookings!
From the lounge of his mum's house to a nationwide company, read about our Managing Director's Inspiring journey!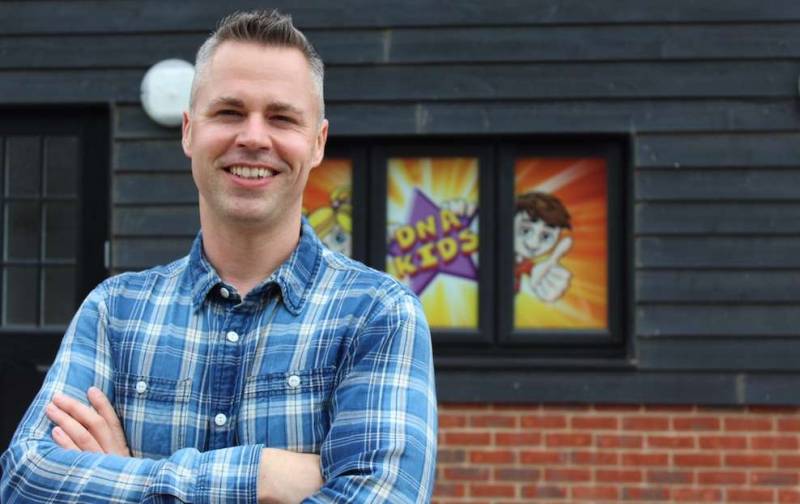 DNA Kids have made the local news around Essex this week, with a few glowing articles about the journey of DNA Kids. Take a look at our Managing Director's story as written by
The Echo
and
Maldon Gazette
newspapers:
Entrepreneur reaches 50,000 great parties
Darren Bewley was just 14 when he knew he wanted to run his own nationwide kids' party business. While it may have just been a pipe dream for the teenager, 30 years later the Maldon entrepreneur is about to realise it by breaking into Scotland and Ireland with DNA Kids.
The business, run from Rawreth, Wickford, employs up to 90 people across England and Wales, including 15 in Essex, and has been 26 years in the making. This month will see DNA Kids break the 50,000th party barrier. To say thank you to his loyal customers Darren is giving away the party for free to one lucky customer.
It is a dream come true for the boy whose greatest school grade was a C in drama at GCSE. Darren, 45, said: "I remember saying to my wife when I was 17 I don't want to be just anybody. I want to be somebody. "I didn't think for one minute it would end up being this. I just did what I love.
"I am really passionate and always have been. I work on my days off. I really believe you should do what you love and I really love my job. I'm just really lucky."
Darren was only 14 when he announced to his parents he was going to run his own party business. After his mum and dad told him he would have to find someone else to buy his DJ equipment and ferry him around from party to party, he waited until he was 18.
Darren started his business at his parents' home in Hullbridge, DJing at birthday parties in Essex and advertising in local papers. Before very long he was being double booked and had to take on staff.
Now DNA Kids takes orders of up to 300 parties a week, throwing everything from magic and wacky science bashes to parties for princesses and superheroes. The business has moved to various premises over the years, from Rayleigh to Kent Elms in Southend, before two years ago moving into Dollyman's Farm, Rawreth.
Darren said: "I remember buying my first mobile phone. It was a second-hand brick which cost £100 and it was just a phone, nothing like what we have now. At the same time I bought my first personal computer. I remember looking at the internet when it first started and there were only big names like McDonald's and Coca Cola with sites. Someone told me it was going to be big so we followed soon after."
The job has thrown some surprises at Darren over the 26 years. DNA Kids has hosted parties for scores of celebrities from tennis ace Boris Becker to footballer Franco Zola and reality TV star Jade Goody. But it was at a children's birthday party where he got his greatest surprise.
Darren said: "I remember setting up in this village hall in summertime and I had seen the name of the woman who made the booking and didn't think anything of it. I remember seeing this guy and thinking 'do I know him? Where do I know that guy from? It was only when I was in the middle of a game where I had kids jumping up and down with inflatable bananas I suddenly thought 'that's Eric Clapton."
"He never said who he was because he wasn't that kind of guy. But he came over and said I was doing a great job and had a real talent. I just thought he was a real legend and there he was giving me praise."
While Darren had big dreams for DNA Kids from the beginning, they have only grown with time. He hopes to break into Scotland and Ireland by 2020 and then the next on his list is America. He said: "I always say to my kids you should try to do something you love rather than getting a job just for money if you possibly can. They have followed me into DNA Kids and it really is a family business."
"My biggest dream, the end game, is to see my kids take it into America. I have grown it in the UK and I would like for them to grow it there. It's a pipe dream but I love dreaming. I dreamt we would be national and it's happened so why not dream a bit bigger?"
It is only four years since DNA Kids celebrated its 25,000th party. To thank their loyal customers, the 50,000th person to book with the company will be given their party for free. The barrier is expected to be reached this month.
Darren added: "I really hope it is me who gets to take that call and tells them they have won. Everyone here is really excited about the possibility it could be them who gets to break the news. We have had such a great time over the last 26 years and we just want to share some of that good luck with our customers."
×
Login to My DNA Kids
Please enter your booking reference and password below. You can find these on your booking confirmation email.
×
Forgotten Password
Please enter your email address below...
×
Forgotten Password
Thank you. We have emailed you details of how to reset your password if your email address matches one of our parties.
If you can't find the email, please check your spam folder.
×