15th Jan 2020
Lift your January Blues by Planning the Perfect Party | DNA Kids
Are you feeling a little blue after Christmas? Give you and your family something to look forward to and host the perfect kids party this month.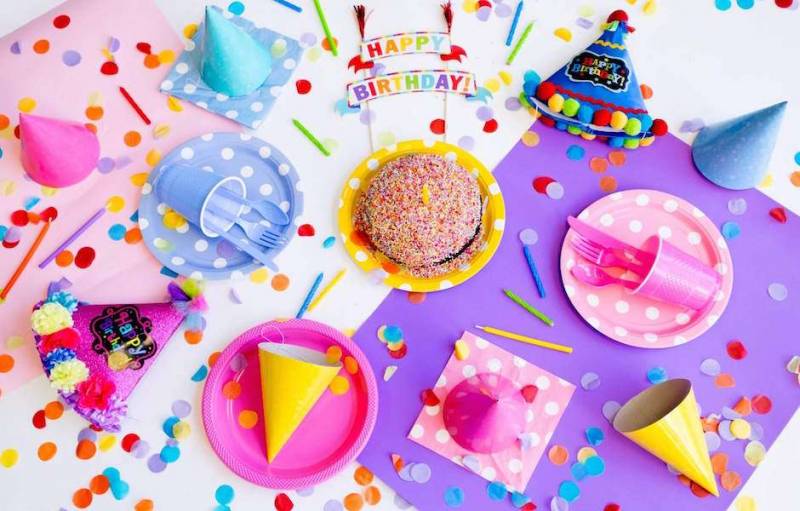 Pick up your January blues and host a fun fantastic party for everyone.
The month of January can be filled with tremendous blues after the Christmas period. Decorations are put away and the partying through the festivities has come to an end. Parents are back at work and kids are back to school, no wonder the blues can hit the whole family.
One big factor to the blues is the lack of having nothing to look forward to. There is a huge amount of excitement and planning put into Christmas and we find joy leading up to the day itself. It has been proven planning things in January either for that month, or year, stirs excitement. So, why not try planning a party for your little one in amongst the blues to add some joy for everyone to look forward to.
Whether you are trying to keep the budget low, or not, here are some tips that you can consider for planning the perfect party for you.
Have fun by creating your own themes and decorations.
It can be easy to grab items at random that may not be needed when you are trying to organise a party. A theme will make sure you buy what is necessary and makes choosing the items easier.
The idea of planning a party for January is to lift your mood from the Christmas blues, and choosing to make your own decorations will help that. It can be easy to buy pre-made décor but opting to make your own with your children will bring a fun activity for you all to do and really lift the spirit in the house.
Making the decorations doesn't have to be difficult, give making a few simple items like invites and decorations a go. Simply buy coloured card or materials from a craft shop and make your own streamers that can be hung around the party room.
The materials could also be used to create handmade invitations. This will be appreciated more by guests and will be a great task for the family to do together.
Here are some themes you could choose and what kind of materials you might want.
Zoo Party Theme
Use animal print or green and orange cards for the materials and hang these colours in streamers around the party room. Cut out tree and bushes shapes and write the information of the party on there for your invitations. Requesting the guest to dress up as their favourite animal will add more excitement to the party and theme. If you are stuck for ideas, DNA Kids can even provide the entertainment with their very own Jungle Safari Party.
Fireman theme
Red, white and yellow card can be used for the invites and decorations here. If you're feeling extra creative, why not try and cut out a gigantic hose out of card and stick this to the wall of the party, with blue card and tissue paper as the water effect. A shape of a Fire Truck can be cut out of red card for the invitations.
Princess Theme
Pastel colours with glitter, is the perfect choice for party invites and decorations for this theme. Again, you can take this as extreme as you wish, and nothing is too much when you are having fun. Crowns and castles can be created for the invitation shape and the more glitter the better.
Get the children involved in making their very own princess castle with cardboard boxes – this is a perfect task to lift the January mood in no time. DNA Kids also has a number of different princess themed parties that you can take inspiration from, including their Snow Princess and Princess, Heroes and Pirates Party.
Party games to fight the blues away
Party games make Christmas and making sure you have your favourites will increase your excitement for the upcoming party. The usual party games such as pass the parcel and musical chairs always go down well and we always recommend them. However, there are some amazing games that are unique and can even be personalised for your child's birthday.
Doughnut challenge
Arm yourself with some mini (or big) doughnuts and grab some baby wipes for the sugar-coated faces. Hang doughnuts on some string and play the doughnut challenge by only using your mouth to attempt to eat the swinging donut. The winner is the first to eat their donut without it falling off the string, or in the quickest time.
Balloon Pop
If you are not afraid of loud bangs this game is lots of fun and highly competitive. Tie an inflated balloon to every participants ankle. Begin playing some party music, once the children have had a little boogie, stop the music. They then must try and pop the balloon of who is closest to them by stamping on the balloon. If your balloon pops, you must sit out, continue playing until there is one winner left.
Sticky Hands
This game is very similar to tag. One person is the chaser (sticky hands) and they chase the other players. Once caught, you hold hands with sticky hands, and run around together catching the rest of the players. The last one standing is the winner.
Small chocolate treats are always great for winner prizes.
Guilt Free Party Food
The food slump hits everyone hard after Christmas and can influence the January blues significantly. However, what's worse is feeling like you have to eat a salad through the entirety of January because everyone around you is on a food cleanse for their New Year's Resolution. Food can be healthy and delicious, there are some lovely treats that can be included in the party, try some of our favourites that will spark joy:
Chocolate covered fruit
Make it yourself wrap station- Include a variety of fillings to choose from
Homemade yoghurt and fruit lollies
Fruit salad station
Crispy chickpeas – alternative to nuts
Healthy homemade chicken nuggets
Don't forget that the key to happiness is doing more of what you enjoy, so try not to feel too guilty if you opt for snacks that might not be as healthy!
We hope that these tips have been helpful and sparked some joy and motivation to create your own January party. Let's push through this together and have a Funtastic January.
If you would like some guidance, or for someone else to do the planning, check out our fantastic party range. You can now even get a quick quote or book your party easily online!
×
Login to My DNA Kids
Please enter your booking reference and password below. You can find these on your booking confirmation email.
×
Forgotten Password
Please enter your email address below...
×
Forgotten Password
Thank you. We have emailed you details of how to reset your password if your email address matches one of our parties.
If you can't find the email, please check your spam folder.
×