26th Jan 2018
Why not add some fun face painting?
Office blogger Charlie provides some useful tips on painting your littles ones faces.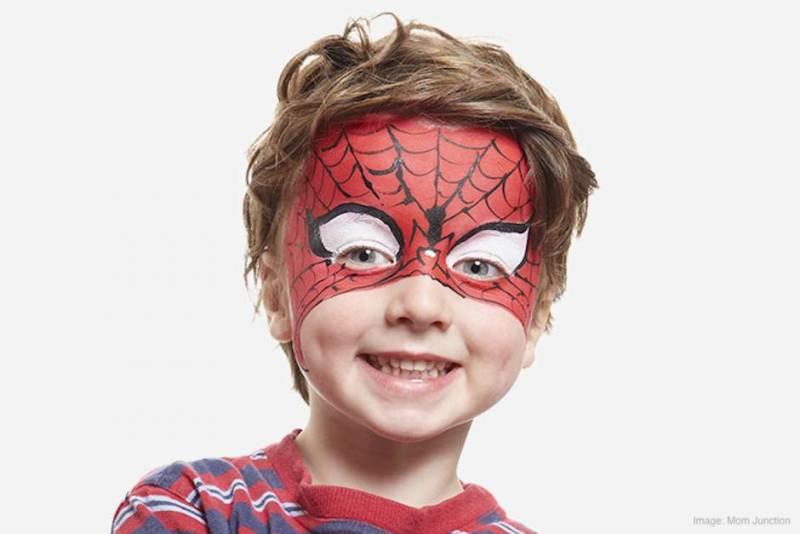 It can be extremely difficult to know exactly how to keep a ten or twenty strong group of little ones entertained for an afternoon, but if you've done the sensible thing and booked a fab DNA Kids Entertainer to take care of things, it's panic over!
To offer something extra there is a party activity that's not only fun, but inexpensive too. If you've never considered setting up a face painting stand or stall at a children's birthday party, you've been missing out on the awesome power of the badly painted lion!
It doesn't matter whether you hire a professional artist to do the job or you take on the role yourself, it's amazing just how awed a child can be if you paint their face to look like a wise old elephant. The best thing about face painting is that it doesn't have to cost the earth – a set of quality paints usually costs around £10-£20.
We all like to dress up and pretend to be somebody else – it's a human compulsion that starts at a very early age. It's why little girls love to flounce around in princess costumes and tiaras, it's why little boys are so obsessed with superman outfits and looking like Batman on his day off.
We all like to pretend from time to time, and it usually starts with face painting. Here at DNA Kids, we're all for dressing up and exploring who you really want to be. Do you want to be a fair maiden trapped in a tower, waiting for a prince to help?
Or do you want to be a dashing adventurer, clad in green tights and wielding a crossbow? When you're six or seven, these are important questions. Here are some tips and tricks that you can use to help you offer super face painting at your party.
Buy Quality Supplies
In most cases, face painting equipment will always be a lot cheaper than expected. After all, you don't need to be investing in state of the art supplies, you just need paints that will blend well and not cause any nasty skin outbreaks.
You should be able to pick up a quality set of face paints for under twenty pounds – don't go for the super budget products, because they could be quite harsh on the skin. The very last thing that you want to have to do is send home twenty kids with boils and peeling faces.
We advise parents to always check the label and read the safety instructions very carefully before using face paints.
Limit Your Designs
If you are going to handle the painting yourself, do make sure that you limit the number of designs on offer. Whilst a professional might be able to jump from creating a perfect frog to a flawless monkey – chances are, you can't quite do the same. It can be a good idea to limit your designs to five or six different options.
There's nothing worse than sitting an expectant little lad in the chair, only for him to immediately ask for a Finn The Dog or a Jake The Human. If you don't know who either of these characters are, you've just given yourself a very good reason to stick to a limited set of designs.
You can always guess, of course, but you've got to be willing to risk a sour face if you get it disastrously wrong – stick with characters or animals that you know you can do.
Always Be Comfortable
It doesn't matter whether you're painting faces or icing scores of fairy buns, it's just so easy to get run off your feet when you're throwing a children's party. We know exactly how tiring it can be to entertain and supervise a large group of young ones, so do take every possible opportunity to sit down and have a well deserved rest.
Whilst face painting, you should be sat down in a straight backed chair – take a break from the job after painting two or three faces. The activity can involve lots of repetitive movement, so it's important to give your arms and fingers time to recover every twenty or thirty minutes.
What you shouldn't do is try to rush through the entire group – you'll only end up with an aching wrist and sore, stiff fingers!
Try To Have Fun!
You might not realise it, but your little ones are going to look to you for guidance. It's easy to feel under-appreciated after baking a hundred cakes or painstakingly putting together the coolest homemade piñata that the neighbours have ever seen and not getting any hint of a thank you for it, but you've got to realise that it means you've done a good job.
If party guests can run wild around your home or chosen venue without a care in the world, you can give yourself a vigorous pat on the back – you've thrown a super party. As long as the children are safe and well supervised, there's no need to push yourself too hard. If you're having fun, the kids will be having fun too.
Alternatively, hire a professional!
If all of the above seems a little daunting, there is always the option of hiring a professional face painter. FACE, The International Face Painting Association describes themselves as follows:
"FACE has created a network of highly skilled and professional artists and we have become a valuable resource for everyone from Agents and other members of the PR world to mums and dads who want to be sure of great painting at their parties."
×
Login to My DNA Kids
Please enter your booking reference and password below. You can find these on your booking confirmation email.
×
Forgotten Password
Please enter your email address below...
×
Forgotten Password
Thank you. We have emailed you details of how to reset your password if your email address matches one of our parties.
If you can't find the email, please check your spam folder.
×