21st Jun 2017
Our shiny new website goes live!
After months in the making, our brand new website is ready to showcase our action-packed kids and teenage parties better than ever!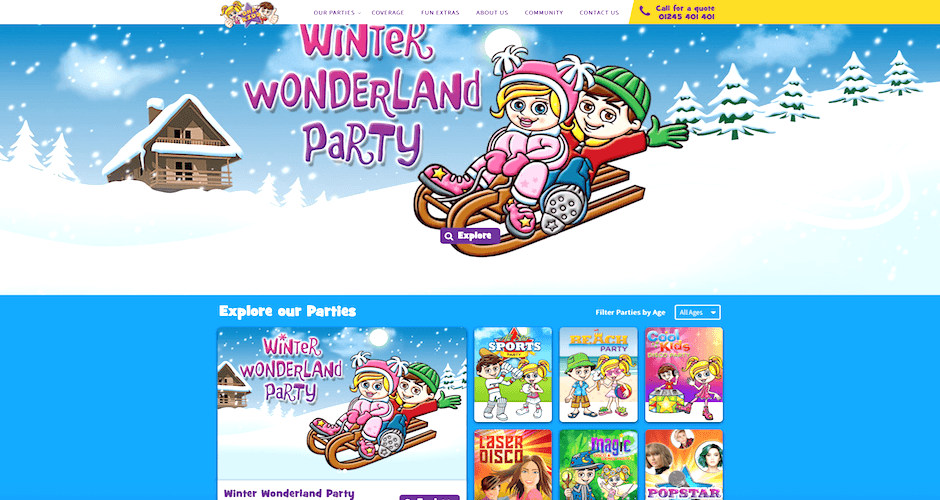 In our fast paced world a lot can happen in 4 years, especially in the world of technology. For example, the iPhone 5S was launched to the usual raptures applause in Silicon Valley 4 years ago and now we are at the lofty heights of the edge-to-edge screened iPhone X.
This rapid change is just as evident online, with new websites vying for your attention (and money!) popping-up on an almost weekly basis. Whilst the rise of the internet is not exactly news headlines, did you know in just 4 short years there are now over 1.1 billion new internet users?
With a large percentage of our custom coming from online enquiries, it is no wonder after 4 years we felt our website needed a complete overhaul. Armed with our team of designers, photographers, digital marketers and developers, we set to work in creating our new website. So, what are the main improvements we have made?
New videos – we have a new video for each of our 14 parties, as well as a new party montage video.
New photos – we have more photos than ever to help our customer's get a better feel for our parties.
More informative – we re-wrote the entire website and added many new useful and informative pages.
Better experience – navigating around our website has been made easier and the page load times greatly increased.
More modern design – we have taken advantage of today's faster internet connectivity and incorporated beautiful big banners and a simpler, more user friendly design.
We hope you enjoy browsing our new website and of course, we would love to know what you think!
×
Login to My DNA Kids
Please enter your booking reference and password below. You can find these on your booking confirmation email.
×
Forgotten Password
Please enter your email address below...
×
Forgotten Password
Thank you. We have emailed you details of how to reset your password if your email address matches one of our parties.
If you can't find the email, please check your spam folder.
×