6th Jan 2021
Our Top Tips For An Awesome Virtual Kid's Party!
With thousands of kids' Zoom parties performed, we've learnt a thing or two about hosting a fun, action-packed online children's party! Here we share our top tips for a fun-filled Virtual Kid's Party!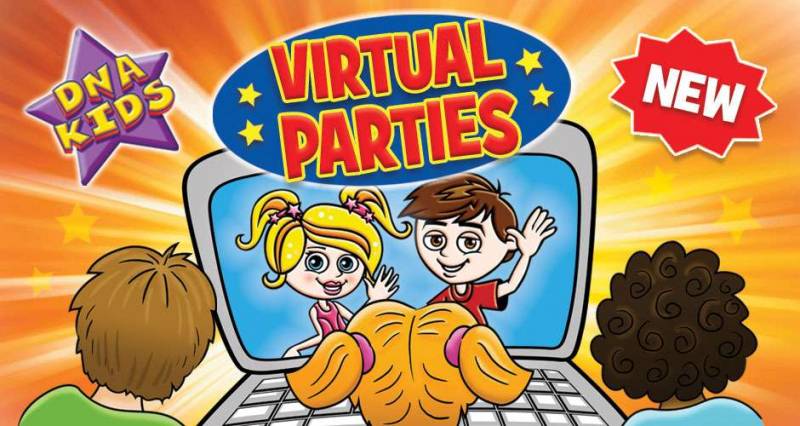 Get The Most Out Of Your Children's Zoom Party With Our Ultimate Guide!
It's A Live-ly Party!
Our virtual parties are hosted in the same fun and energetic way as our live face-to-face parties. Our brilliant children's entertainer will engage and interact with the children in real-time (i.e. live and not pre-recorded) with exciting party games, activities or a hilarious magic or science show (depending on the party).
So, jump off the settee, limber-up (10 burpees should do it!), put on your biggest smile and get ready to PARTY!!!
Choose A Suitable Party Room
Firstly, pick the perfect place to party. We generally recommend a minimum clear space of approx. 6ft x 6ft, although the more space the better.
A lounge or dining room make the perfect virtual party room. Just remember to push any dining table and chairs to the side first!
Decorate Your Party Room
Now let's make your party room pop! Have fun decorating your party room with colourful balloons, banners, a disco light (aimed at the wall behind you) or items themed to the party etc.
Once you know where you are placing the device that you will be logging into Zoom with, decorate your party room opposite it, i.e. behind where you will be standing.
Dress To Impress!
We know you've been waiting for the right time to wear that fabulous new party outfit and now you have it! Spruce yourself up, put on your cool clothes and dress to impress your fellow guests, after all, it's a party!
For added fun, you could wear fancy dress themed to the party or based on your favourite character/s!
Eat Yummy Snacks
If like us you like to party hard, you're going to need some snacks to keep your energy levels up. Have bowls of your favourite yummy treats, as well as drinks close by so that you can keep energised, hydrated and partying like a true rockstar!
Invite The World… Literally!
Unlike live parties, one of the great things about virtual parties is that you are not restricted to having to invite just local friends and family.
Your guests can log on and party with you virtually from anywhere in the world, so when you are putting your guest list together, don't forget to consider further a field friends, family or cousins.
And if you are much popular than we are, you can even invite up to 99 party guests… phew!
Make Grandparents Day
Non-participants are more than welcome to log-in and watch the children having a fantastic time virtually! So, why not make grandparents day by inviting them along?
Alternatively, with our optional free video recording of the party, you can send them a copy of the video after the party instead!
Screen Mirror To Your TV
You can log into Zoom and virtual party on a mobile phone, tablet, laptop or desktop PC. For a more immersive experience, choose the biggest screen device that you have available.
Better still, we recommend screen mirroring from your device to your TV (smart TV not essential). This way you will see all of your friends in big on your TV screen for the ultimate virtual party experience!
If the talk of screen mirroring sounds a bit daunting, fear not, there are many easy to follow articles and tutorials on Google and YouTube for screen mirroring Apple or Android devices.
Party In Zoom's 'Gallery' View
If you are new to Zoom, there are two ways in which you can choose to view and party with your friends – Speaker or Gallery View.
Whilst you may want to switch between the two different options to find which view best suits you, we generally recommend Gallery View as being the best option and in particular when playing party games.
This way you can see all of your friends partying with you in a tiled format across your device's screen.
For our Virtual Magic Party and Virtual Science Party, you may want to try Speaker View, so that you can see the magician or scientist in big on your screen as they perform the show!
Rename Your Zoom Account
If your Zoom account is in a different name to your child's, rename your account to your child's name (or a known nickname if preferred), so that their friends can see where they are on screen.
It also helps our entertainer make the party more fun and personal, as they can use the children's names when talking to them!
Follow these simple steps to rename your Zoom account, after you log out of the party your Zoom account will revert back to its usual name.
Renaming On A Mobile / Tablet:
Touch your screen to reveal Zoom's options (if not showing already)
At the bottom of the screen click on Participants
Click on your name
Click on the Rename option
Enter your child's name (or nickname)
Click on Done… that's it!
Renaming On A Laptop / Desktop PC:
At the bottom of the screen click on Participants
Hover your cursor over your name
Click on the More button
Click on the Rename option
Enter your child's name (or nickname)
Click on the Rename button… that's it!
Be A Considerate Friend
Virtual parties are a lot of fun, so we won't blame the children for getting very excited during the party. In fact, we actively encourage it!
However, too much noise at once can overwhelm Zoom making it difficult for some children to hear the entertainer's instructions.
When your entertainer is explaining party games or hosting the magic or science show, we recommend popping yourself on Mute, so that everyone can hear the entertainer clearly.
Once the entertainer has finished their explanation, please then Unmute yourself, so that everyone can hear you having fun!
We appreciate parents don't often get 5 seconds to relax and have a natter… and boy we know they deserve it!
Mums and dads, if you are chilling and chatting with a glass of wine or cup of tea in the party room, please be a considerate superstar and don't forget to pop yourself on Mute first!
Bring Out The Birthday Cake
Making birthday children feel extra special is one of our favourite things to do! Our entertainer will get all of the children to sing a big 'Happy Birthday' to the birthday child at the end of the party.
If you have a birthday cake, please ensure you have the candles in the birthday cake and a lighter to hand ready for then!
DNA Birthday Kid Grand Presentation (Optional)
In addition to singing 'Happy Birthday', for an additional £5, at the end of the party we can also perform the DNA Birthday Kid Grand Presentation.
Our fun medal presentation finale is not only a great way to end your virtual party and make the birthday child feel even more special, the super-cool birthday medal makes a memorable keepsake!
Please note: the birthday medal is posted to you in advance. All you need to do is pop the medal over the birthday child's head when the entertainer asks you to do so!
Take Care When Having Fun!
Some of our virtual parties have treasure or scavenger hunts included, which may require the children to go up or down stairs to retrieve certain items.
Whilst our entertainer will pre-warn the children to take extra care when negotiating any stairs, we greatly appreciate parents and carers keeping an eye on the children when doing so.
If you have a virtual party top tip that we've missed out, we would love you to share it with us at hello@dnakids.co.uk We hope you have an awesome virtual party!
×
Login to My DNA Kids
Please enter your booking reference and password below. You can find these on your booking confirmation email.
×
Forgotten Password
Please enter your email address below...
×
Forgotten Password
Thank you. We have emailed you details of how to reset your password if your email address matches one of our parties.
If you can't find the email, please check your spam folder.
×