About Our Awesome Kid's Discos
One of the most exciting things children love about our kid's disco is hearing all of their favourite songs brought to life in glorious high definition. This is thanks to our professional DJ mixer, laptop with DJ software and great sounding speakers, which we set at a comfortable volume for children.
To ensure our children's entertainers are always in the thick of the action, they use a radio or headset microphone. Our kid's disco also comes with a purpose-built deck stand, so there is no need for a table to be provided and reassuringly, our entertainers carry back-up audio equipment so that the show can always go on!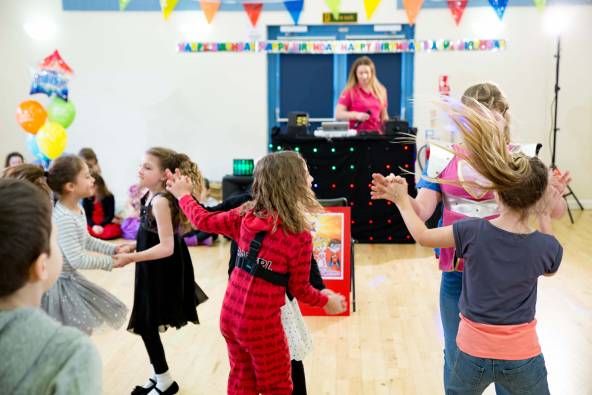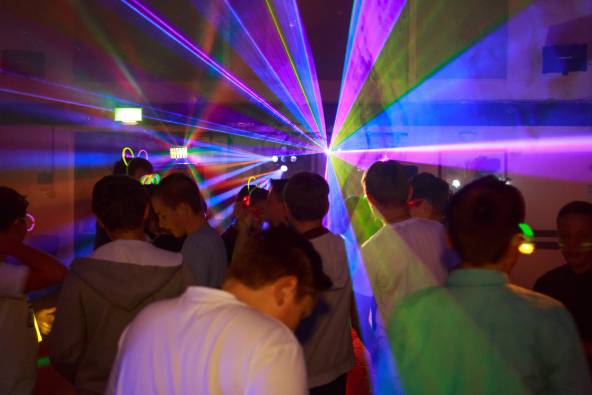 Cool Colourful Lights
To give your party venue lots of bright colour, our kid's disco comes with two FX lights which project colourful shapes around the room and a multi-coloured star cloth, which looks great even with the lights on!
Whilst our standard kid's disco lights look fantastic, if you are looking for even more wow-factor we offer light-show upgrades, including extra FX lights, a multi-coloured laser and UV glow-in-the-dark lights! See our optional extras for further details.
Fun tip: for a 'proper disco feel', try turning off a few of the venue lights above the disco and leaving on a few down the opposite end. This brings out the vibrant colours of the disco lights whilst still providing enough light for the party games!
Amazing Machines!
For added fun, all of our kid's disco & games based parties come with the free choice of a bubble, snow or smoke machine. And the best bit is, none of our machines require any cleaning up, stain clothing or harm the children's skin. Your chosen machine will also be used in careful moderation to prevent floor slipperiness.
For 3 – 5 year olds, the bubble machine is the most popular machine, whilst 6 – 11 year olds usually prefer the snow machine. The smoke machine is great for our Spook-tacular Monster Party and evening kid's parties that want a more grown-up feel (subject to your venue having smoke alarms).
We would love for you to join us on social media! Simply Like our Facebook page or Follow Us on Instagram or Twitter and as a thank you for doing so, we will bring along a second machine completely free of charge (usually a cost option). View our offers page to find out more.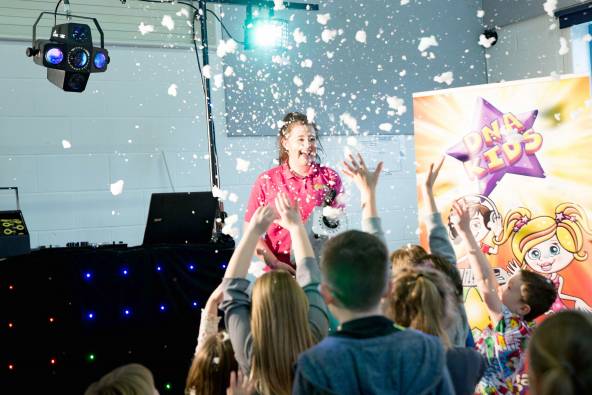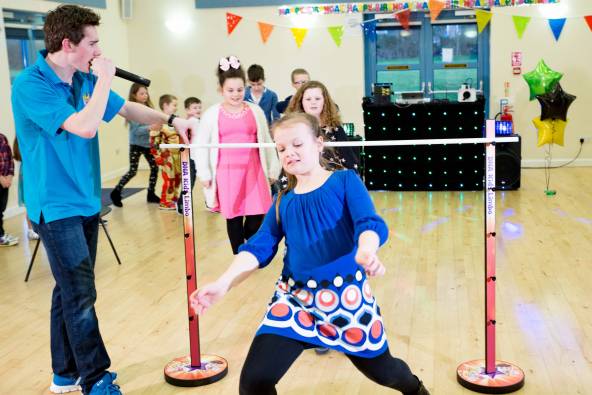 Good to Know
Follow our top tips to get the best out of your DNA Kids party!
Our kid's disco takes up a floor space of approx. 7ft in width by 4ft in depth (approx. a large two-seater sofa).
Equipment setting-up and down time takes 30 minutes either side of your party time (based on a ground floor venue). Please note: upstairs venues require an additional 15 minutes setting-up and down time.
If your party venue has a stage, we recommend placing the disco in front of it, as our entertainers do a lot of back and forth to and from the disco. It also helps prevent children from wandering on to the stage!
If you have a kitchen at your venue, for your convenience at food time we recommend setting-up the disco down the opposite end of the kitchen.
If possible, to accommodate team based games we prefer to have more room down the length of the venue as opposed to across it.
If you know your party venue has a sound limiter please let us know so that we can make the entertainer aware.
If you are having an outdoor party, as the British weather can be unpredictable please consider a contingency plan if it were to rain, such as a marquee, gazebo or space in your home.
×
Login to My DNA Kids
Please enter your booking reference and password below. You can find these on your booking confirmation email.
×
Forgotten Password
Please enter your email address below...
×
Forgotten Password
Thank you. We have emailed you details of how to reset your password if your email address matches one of our parties.
If you can't find the email, please check your spam folder.
×