Parachute, Disco & Games Party Activities
Parachute, Disco & Games Party Activities
We have taken some of the most popular party games that have made our Cool Kids Disco Party such a big hit with children and applied them to our Parachute, Disco & Games Party.
In addition to this, the children will play a mix of hilarious parachute-based games that include lots of fun props to fully engross the children and to make your child's party one to remember!
Please note: for 3rd birthdays we recommend parental assistance for some parts of the party.
Back 2 Base
Imagine Musical Chairs but with all the chairs facing outwards in a circle and then amplify the frantic fun of the game x 10 and you've got Back to Base! A fantastic fast-paced sitting game for older children!
For ages: 8 years only.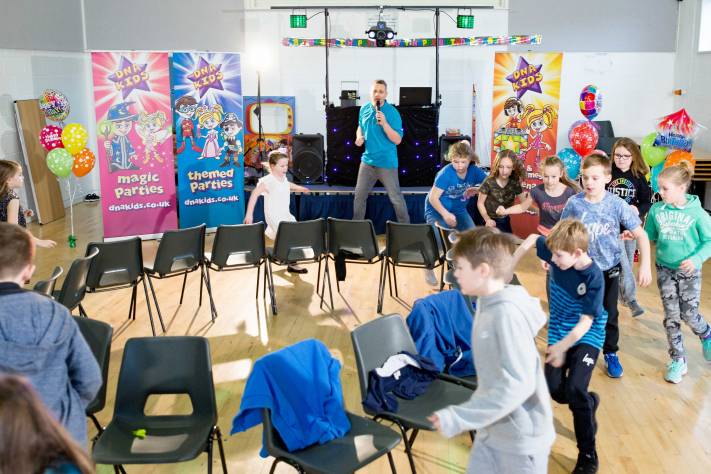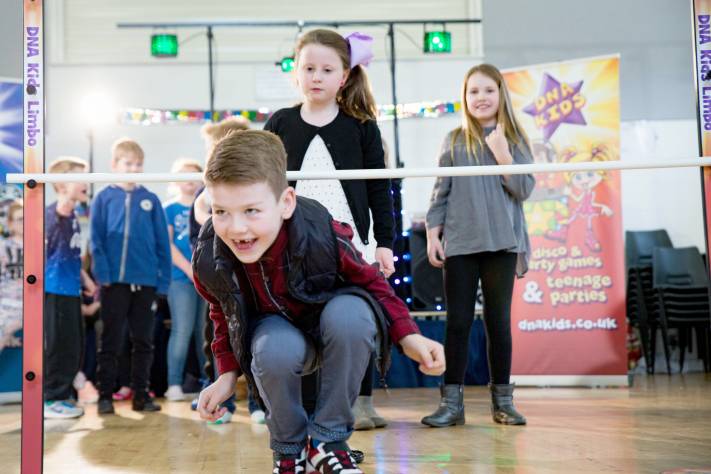 Cartoon Capers / Rockin' Run-around
The children get to show off their best dance moves in this thrilling game of luck. When the entertainer stops the music, the children have to quickly run to their favourite picture board and then watch in suspense to see if their picture board is chosen!
For ages: 4 – 8 years.
DNA Limbo Challenge
Our most popular game proudly features in our Parachute, Disco & Games Party with good reason. When it comes to excitement, anticipation and fun, there are very few party games that rival the DNA Limbo Challenge!
For ages: 3 – 8 years.
Duck Pond Dash
In this funny fast-paced game the children waddle and quack like ducks as they sit around two blue ponds (shaped material) ready to quickly pick-up one of the many cute ducks bobbing away on the ponds!
For ages: 4 – 8 years.
Go Teddy Go!
In this cute sitting-based game the children will play with our two loveable teddy bears 'Bramble' and 'Marmalade'. As the music is played the children must quickly pass around our adorable teddies as quickly as they can before the music stops!
For ages: 3 years only.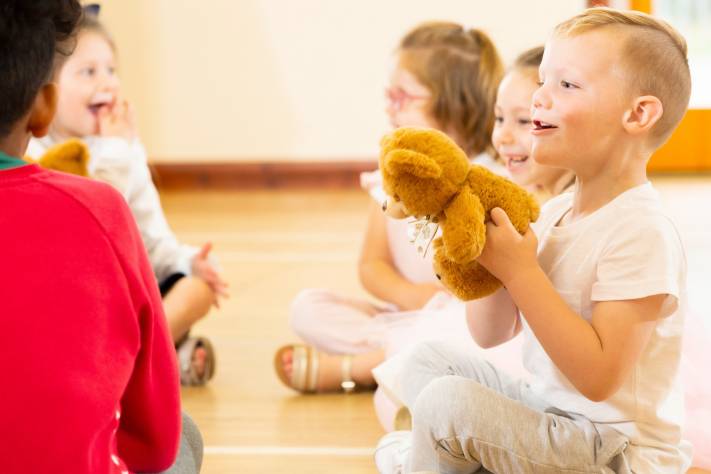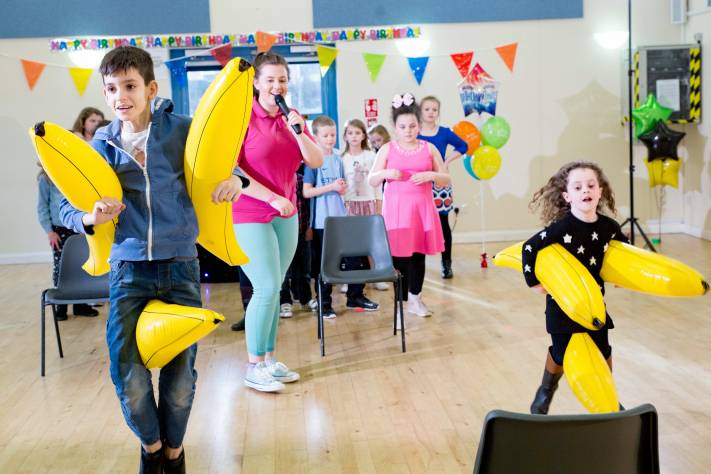 Monkey Game
There's plenty of monkeying around in this funny team-based race involving giant inflatable bananas! Both children and parents alike will love this simple but hilariously fruity team race!
For ages: 4 – 7 years.
Mummy Mummy
Mummy's (or daddy's) get to become Mummies in this hilarious team-based race that will have your guests reaching for their cameras! Who would have thought wrapping-up children's parents in toilet roll could be so much fun!
For ages: 7 – 8 years.
Musical Bumps / Statues
Traditional party favourites like Musical Bumps and Musical Statues will always have a fond place in our hearts, as well as our kid's parties for little ones. Not only are they well-loved by children, they are simple timeless fun!
For ages: 4 – 6 years.
Number Game
Older children will have a blast playing this dance-based game that tests friendships (in a funny and innocent way) to the max! When the entertainer randomly calls out a number, the children then need to quickly get into groups of that number. Sounds simple enough… what could possibly go wrong?!
For ages: 8 years only.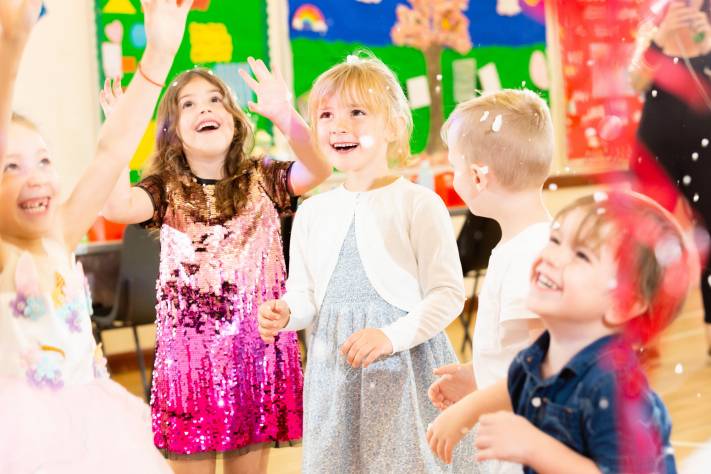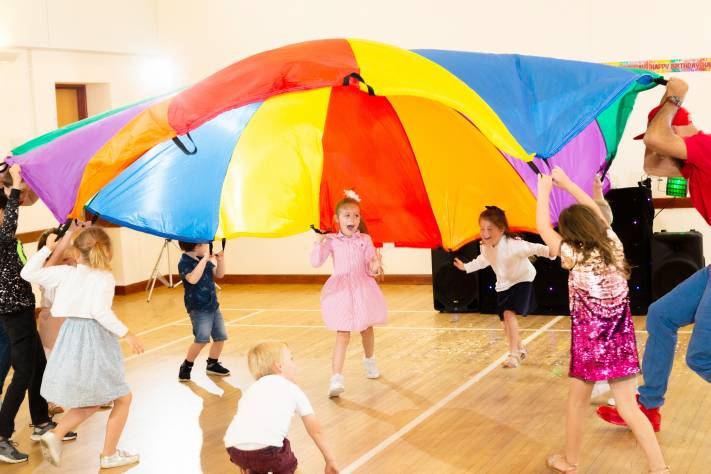 Parachute Games
Being a parachute based party, you would like to think the party is not only packed full of classic parachute games but also parachute games that include lots of fun props and are unique. We agree, which is why we created our Parachute, Disco & Games Party this way!
From the moment the children pick-up the parachute they will be engrossed in back-to-back parachute games that see them bouncing balls of various sizes on the parachute, creating cool umbrellas to hide under, sending rockets high into the sky, diving under wiggly waves to recover sunken treasure, performing fun parachute-based action songs such and much more… phew!
For ages: 3 – 8 years.
Simon Says
We are big fans of Simon Says, so much so that we have created many themed versions of this simple but hugely popular party game. We have put together some of our favourite actions from our other parties to provide a very special version of Simon Says just for little ones!
For ages: 3 years only.
Sweet Tooth
Sweet Tooth by name, Sweet Tooth by nature! Children roll a soft dice in the hope of getting a six. If a child gets a six, they then have to put on the fun clothing props as fast as they can and then eat lots of yummy sweets before someone else ruins their fun!
For ages: 8 years only.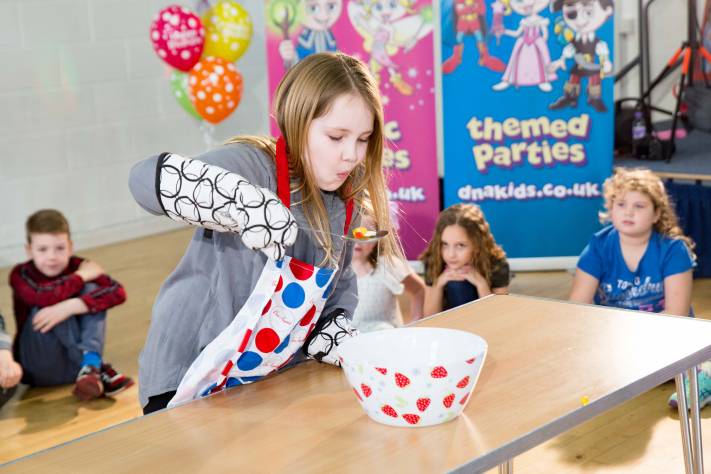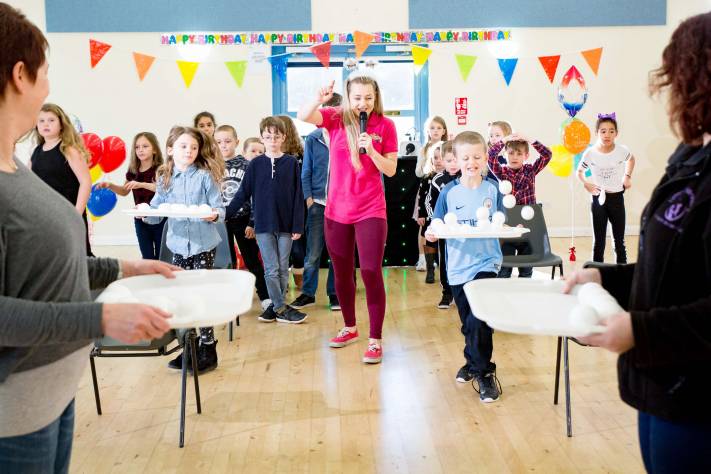 Treasure Hunt
The legendary pirate 'Captain Sharkbait' and his sunken gold lives on in this classic treasure hunt for younger ones. The children will need to look high and low if they want to find old Captain Sharkbait's hidden bounty!
For ages: 3 years only.
Waiter Waiter
What's trickier than walking with a tray full of ball pond balls? We know, quickly walking with a tray full of ball pond balls around a wobbly slalom course to beat the other team! Oh… did we also mention, whatever you do don't drop the balls?!
For ages: 4 – 6 years.
×
Login to My DNA Kids
Please enter your booking reference and password below. You can find these on your booking confirmation email.
×
Forgotten Password
Please enter your email address below...
×
Forgotten Password
Thank you. We have emailed you details of how to reset your password if your email address matches one of our parties.
If you can't find the email, please check your spam folder.
×