Popstar Party
Key Party Features
Popstar Themed Party Games - incl. fun popstar themed props

Colourful Kids' Disco - incl. bubble, snow or smoke machine

Latest Pop Songs - incl. disco dancing sections

Brilliant, Lively Children's Entertainer

Prizes, Consolation Sweets, Certificates, Invites & More!

Birthday Child is Star of the Show - receives birthday medal!
Find out 'How Our Parties Work'
Call 01245 401 401 or get a Quote Online
Get a Quote
Useful bits
Set down Time:
30 minutes
Max. Attendance:
40 children
Popstar Party
If like us your child is popstar crazy, we have created the perfect party just for them!
Our Popstar Party is packed full of exciting music-based popstar themed party games, all their favourite pop songs, a super-cool kid's disco with colourful lights, bubble, snow or smoke machine and giveaways galore!
Your disco diva or dude and their friends will not only love playing the props-based party games, they will also love showing off their cool dance moves to the latest pop songs in the dancing sections between each game!
Read on to find out more about our action-packed Popstar Party and what is included...
What's included in your DNA Kid's Party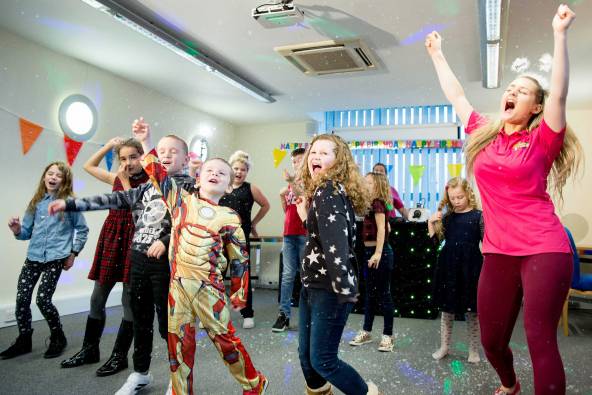 Games that Rock!
The birthday child and their friends will have an absolute blast playing our age appropriate popstar party games, which include lots of popstar themed props!
Sample Games For Younger Popstars
Bop Along Bumps / Superstar Statues
Lights, Camera, Music!
Microphone Mayhem
Party Rockers Limbo
Rock the Party
Taylor (Swift) / Justin (Bieber) Says
Sample Games For Older Popstars
Dance Mania
Microphone Mayhem
Move Over MTV… It's DNA TV!
Party Rockers Limbo
Popstar's Big Day
Rock the Party
Hey! Let's get you a quote and check availability
Call our helpful party advisors on 01245 401 401 or get a quote online!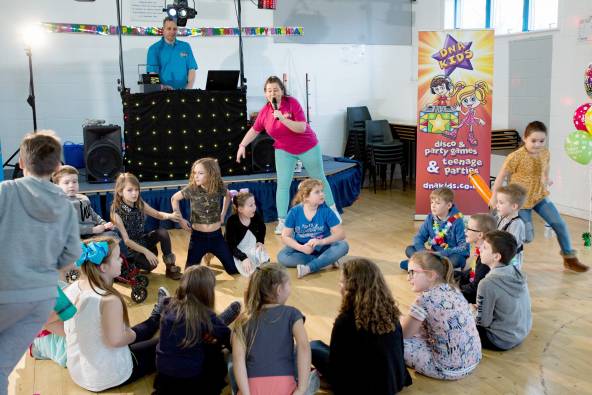 Let's get the Party Started!
Before we get the show on the road, let's check we've got everything in place for one seriously cool Popstar Party!
Firstly, every Popstar Party needs an awesome PAT tested kids' disco complete with colourful lights to create a great party atmosphere... no problem!
Next, let's use an engaging bubble, snow or smoke machine for added wow-factor... you've got it! Check out our offers page to get a free 2nd machine worth £20!
Finally, it wouldn't be a Popstar Party without the latest pop songs played during the disco dancing sections (in-between the games), as well as playing the birthday child's chosen favourite songs… sure thing!
Great! We've got everything in place for one truly amazing Popstar Party, so let's get ready to rock this party!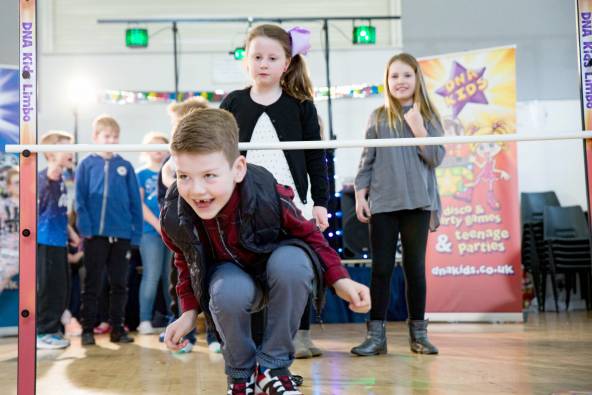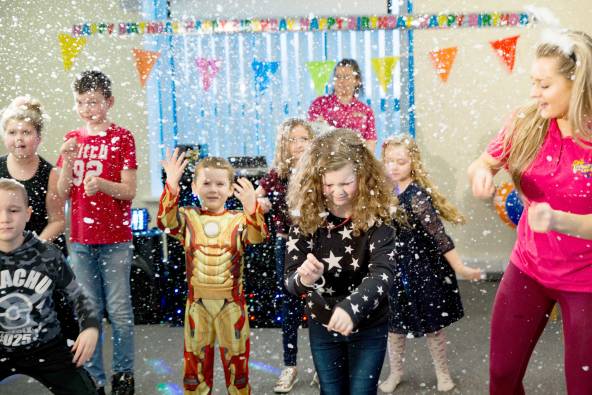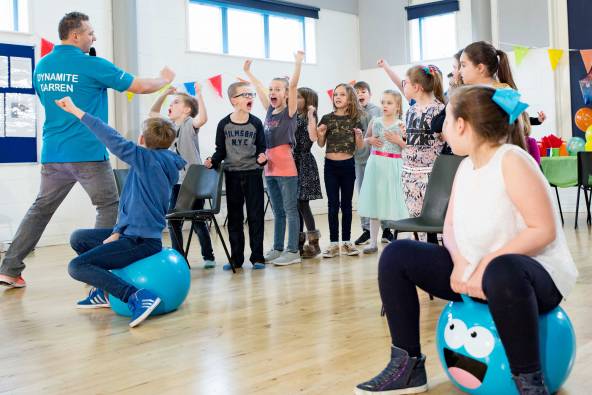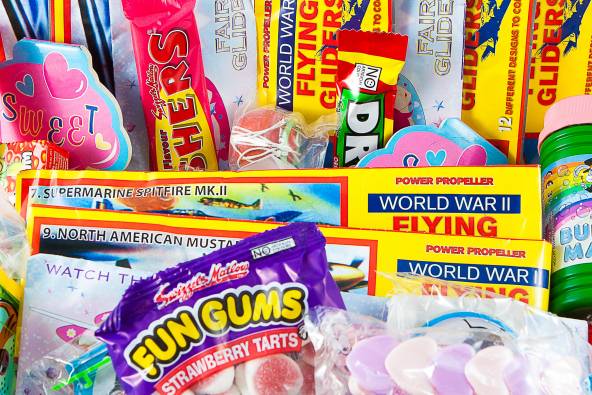 Fabulous Freebies
Our Popstar Party comes with lots of fantastic free giveaways, including:
Party Game Prizes
Consolation Sweets*
Certificates
Fun Activity Sheets
Invitation & Thank You Note (emailed to you)
To create even more prize winners, we host on-the-spot best dancer competitions and play 'Instant Win' throughout the party where the children get to answer easy popstar themed questions!
*Please inform us of any allergies or dietary requirements.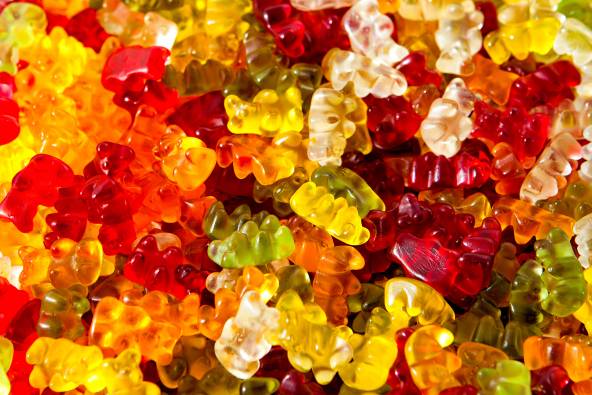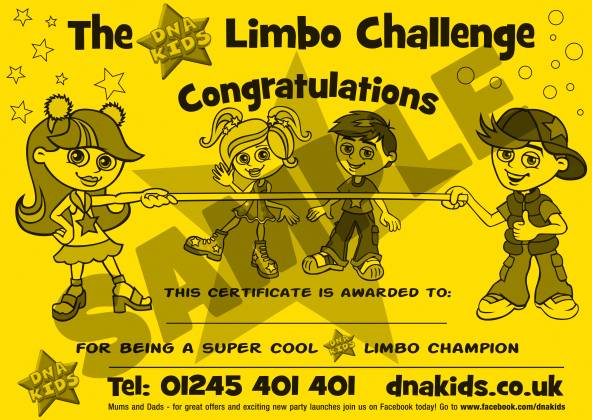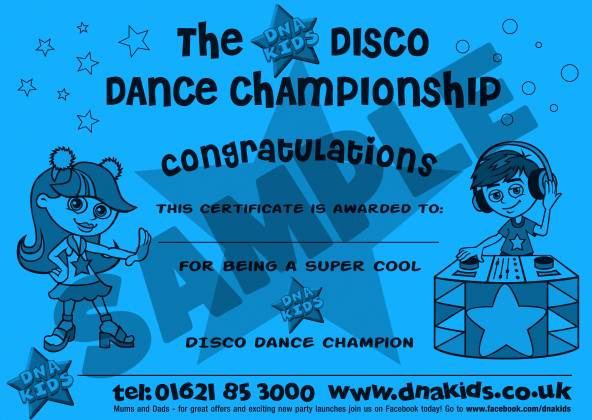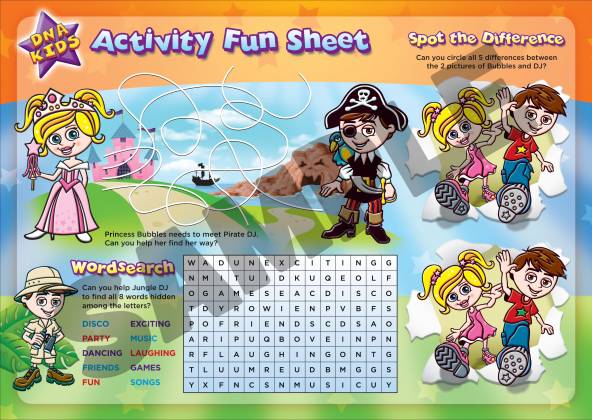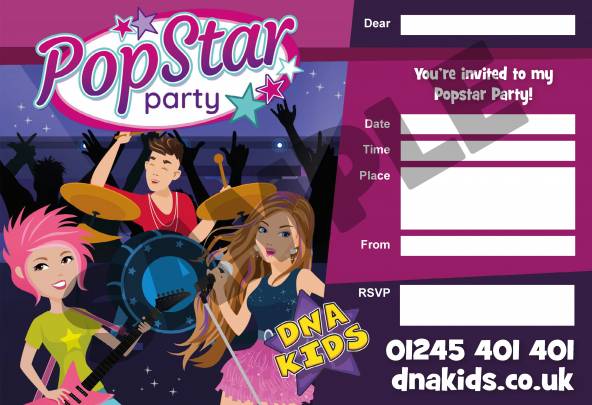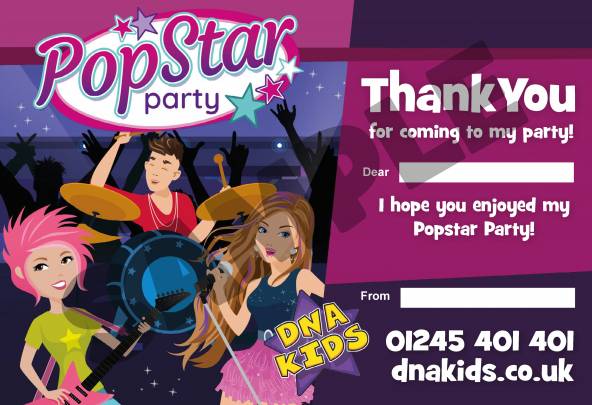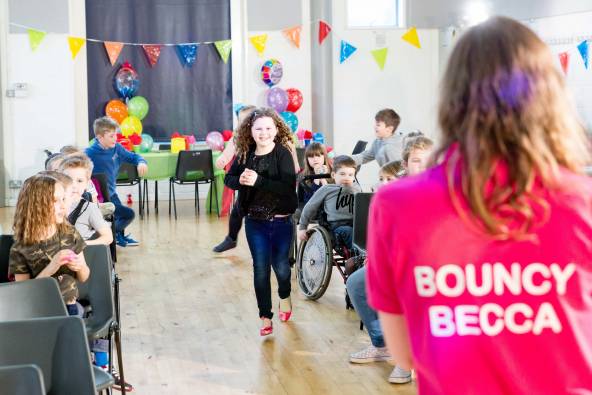 Expert Entertainers
Our brilliant children's entertainer will play the perfect party host taking full control of the party, so that you can sit back and enjoy watching the children having the time of their lives!
Whilst you relax, the kids' will be fully entertained and engaged by our lively children's entertainer.
Also, being mobile kids' entertainers, simply book a local party venue (or host in your home or garden) and we will bring the fun to you!
For peace of mind, we offer replacement kids entertainer cover (subject to availability) and our lively children's entertainers are DBS checked.
See our children's entertainers glowing reviews at Reviews.io, Trustpilot, Facebook or Google!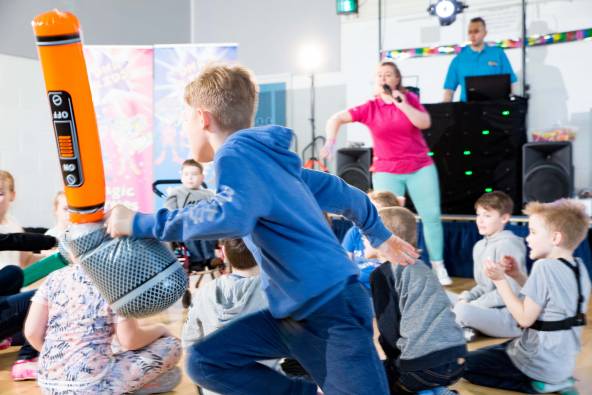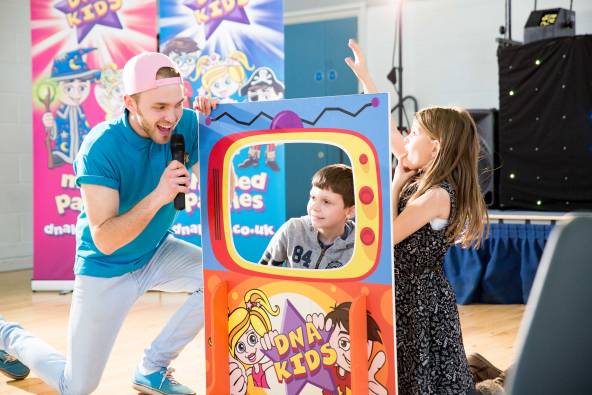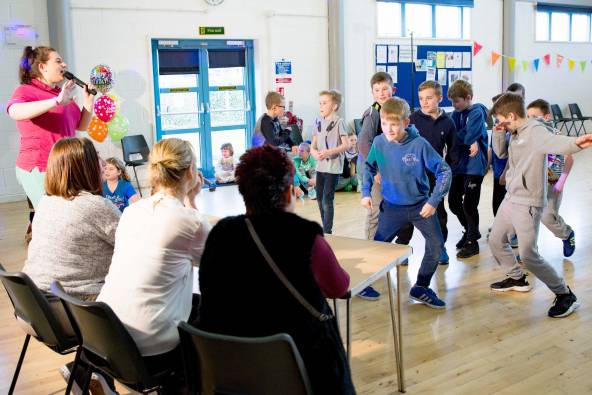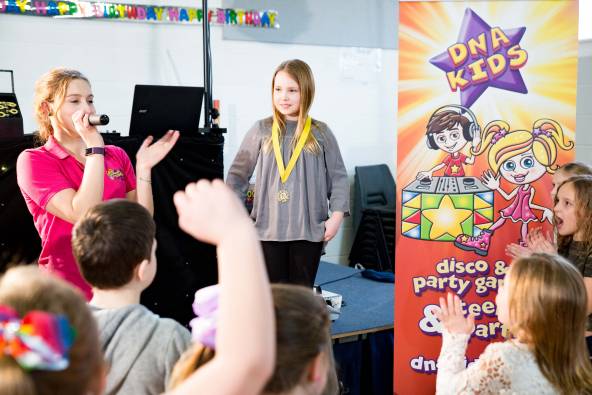 Very Important Popstar!
We really know how to make the birthday child feel like an extra special VIP (Very Important Popstar)!
This starts with our fun Party Intro and goes right through to the DNA Birthday Kid Grand Presentation, where the birthday child takes centre stage to receive their glittery Popstar Party medal!
Our birthday VIP will also be guaranteed to win prizes, be made team leader and start off the party games.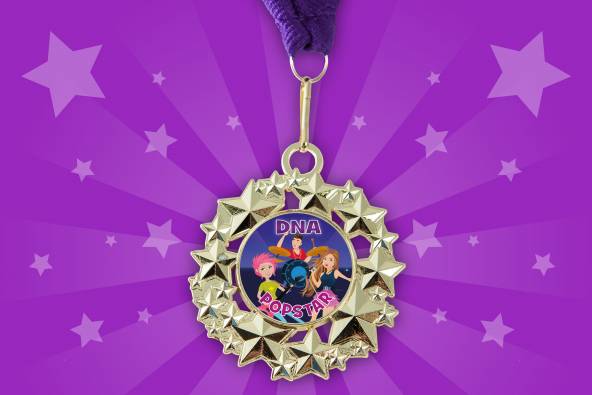 Ready to book? Call 01245 401 401 or Book Online!
Call our friendly team today or book online... it's quick, secure & easy!
How Our Popstar Party Works
Our step-by-step guide to hosting your perfect DNA Kids party...
Call our helpful party advisors on 01245 401 401 for further information, quotes and availability or get a quote online
Book your Popstar Party online or call us on 01245 401 401 - please note, a credit or debit card deposit is required at time of booking

Hire a local party venue (village or church hall, community centre etc.) or host at home or in your garden - we come to you!
Purchase your party food, party-ware, decor, birthday cake, party bags etc. - we provide the party entertainment only
Your entertainer will arrive 30 mins before the party starts to set-up their disco equipment - they will take 30 mins to set down too1
Your entertainer will run the party for you - the children will play lots of popstar themed party games with dancing sections in-between!
Your entertainer will break halfway through the party so that you can feed the children (typically 20 - 30 mins)
Your entertainer will get the children to sing Happy Birthday to the birthday child/ren - you would need to bring out the birthday cake2
After the food break your entertainer will continue the fun!
At the end of the party the children will go home happy and hopefully very tired!
Your entertainer packs away - please pay them the remaining party balance
Go home, put your feet-up and enjoy a well- deserved cup of tea or glass of wine!
1. For upstairs venues, 45 mins is needed to set-up and down. Extra time needed for optional light-show upgrades. 2. Birthday parties only
Got A Question? Find The Answers Here!
We love to answer your questions! Here are our top 3 most frequently asked questions for our Popstar Party - please click below to see many more!
If you have a question not listed on our FAQs page, please call us on 01245 401 401 or email us at hello@dnakids.co.uk
How much does a Popstar Party cost?
Ok, let's get you a Popstar Party quote!
Please choose how you would like us to provide you with a quote:
*Our lines are open 9am – 5pm Monday to Friday and 10am – 4pm Saturday. We are closed Sunday and Bank Holidays.
Do I need to hire a party venue?
Yes. Being mobile children's entertainers we come to you!
This means you will need to hire a local venue to hold your Popstar Party in, such as:1
Village Hall
Community Centre
Church Hall
Sports Club
Leisure Centre
Pub/Restaurant/Hotel Function Room
Conservative/Labour Club
School
Your Home or Garden2
1. For a ground floor party venue, we would need 30 minutes before the party to set-up and 30 minutes to set down afterwards. This means if your party is 2 hours long, please hire your venue for 3 hours. For upstairs venues, please allow 45 minutes to set-up and 45 minutes to set down, i.e. hire your party venue for 3.5 hours.
2. Please note, the disco we use takes up the size of a two seater sofa (approx. 6ft x 4ft). For a garden party, please ensure you have cover in the event of rain, such as a marquee, gazebo or a space within your home.
What do I need to supply for the party?
As children's entertainers, we will take care of the party entertainment only.
This means you would need to supply the party venue (with two 13 amp plug sockets) and the following party related items should you wish:
Party Food
Birthday Cake
Party-ware (plates, cups etc.)
Decorations
Party Bags
Any other party related items
Check Availability for Popstar Party in your area
Please enter the postcode or address of your party venue. If you are unsure or do not have a party venue booked, please use your home address or postcode
×
Login to My DNA Kids
Please enter your booking reference and password below. You can find these on your booking confirmation email.
×
Forgotten Password
Please enter your email address below...
×
Forgotten Password
Thank you. We have emailed you details of how to reset your password if your email address matches one of our parties.
If you can't find the email, please check your spam folder.
×