Teddy Bears Picnic Party Games
Teddy Bear's Picnic Party Games
We've put so much teddy bear love into our Teddy Bear's Picnic Party! From teddy bear themed party games and parachute games, through to an interactive and truly unique teddy bear's picnic complete with teddy bear story telling! And the best bit is, the children's teddies get to join in the fun too!
Please ask your party guests to bring their favourite teddy bear to the party. For 3rd birthdays we recommend parental assistance for some parts of the party.
Bear Bumps / Statues
There is a very good reason that some things have stood the test of time and Musical Bumps / Statues and teddy bears are perfect examples. This is why we have combined these timeless classics together, so that when the music stops, not only do the children have to sit down or stand as still as a statue, their teddies do too!
For ages: 3 – 6 years.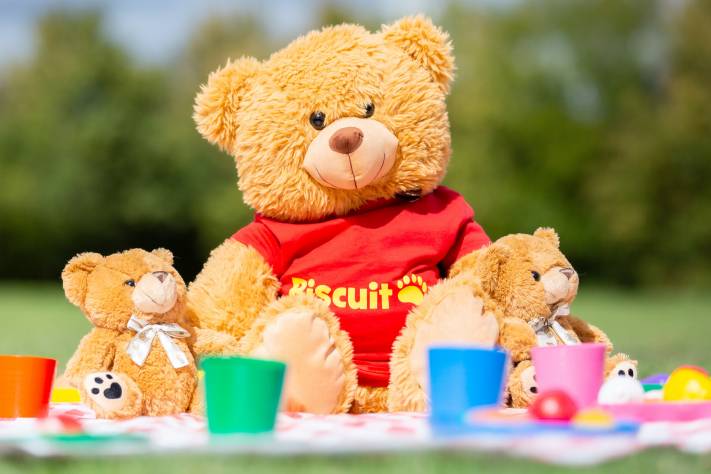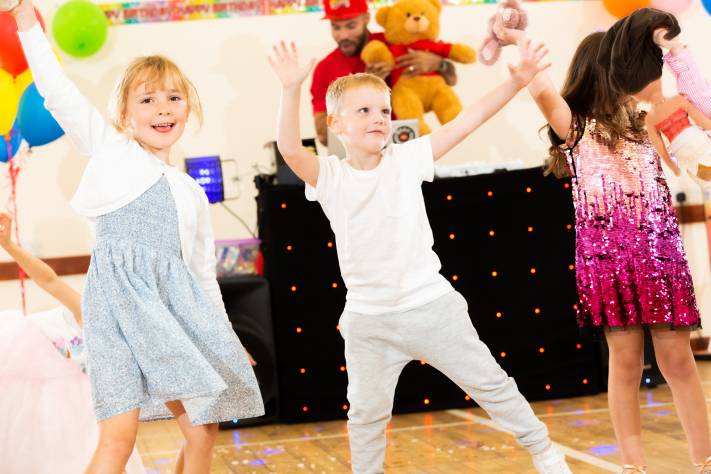 Bear Friends Forever / Teddy Bear Quiz
Before the children are transported into a world of imagination in the teddy bear's picnic story telling, we take a brief moment to get to know the children's teddies and test out the children's teddy bear knowledge in our fun Teddy Bear Quiz!
For ages: 3 – 6 years.
Biscuit Bear Says
Our teddy bear version of Simon Says allows little ones to perform lots of cute teddy bear themed actions, such as brushing their teddy's teeth, puddle jumping with their teddies and feeding their teddy's some yummy honey to name but a small few!
For ages: 3 – 6 years.
Go Teddy Go!
In this fun sitting-based game the children will meet two of our loveable teddies, 'Bramble' and 'Marmalade'. As the music is played the children must quickly pass around our adorable bear friends as quickly as they can before the music stops!
For ages: 3 – 6 years.
Paddington's Welly Throw (parks only)
We will let you into a little secret… one of our best bear friends is a certain wellington boot wearing superstar. Can you guess who it is? That's right, it's Paddington Bear!
Paddington loves parties as much as we do and he's very kindly lent us his welly boots for this hilarious game! The children will take it in turns to throw one of Paddington's welly boots as far as they can. Who will throw his famous boots the furthest?!
For ages: 3 – 6 years.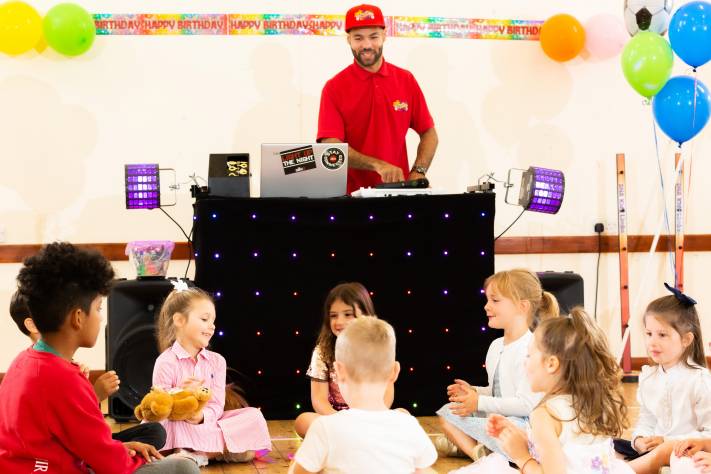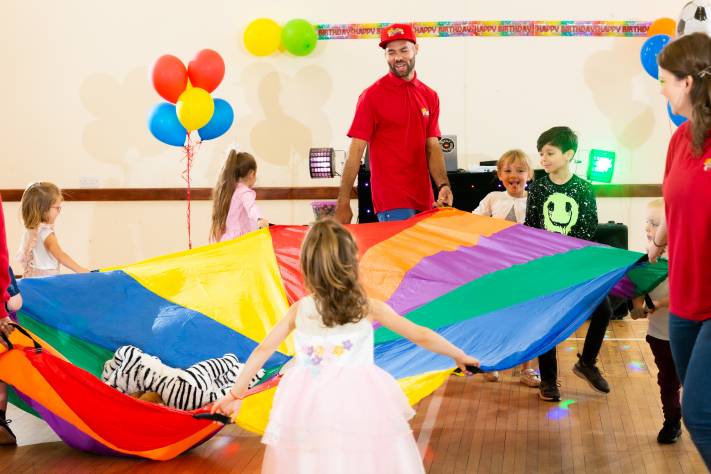 Parachute Games
We have combined the children's love of playing parachute games with their love of teddies! Our 12ft. or 16ft. diameter brightly coloured parachute not only looks inviting and fun, it can fit lots of children around it and be used indoors or outdoors.
In every parachute game we play, we include the children's teddy bears too! The children will have a blast bouncing their teddies into the air in 'Bouncing Bears', cleaning and fluffing their bears in the make-believe 'Wiggly Washing Machine' and diving under the parachute waves to recover the gold in 'Teddy's Sunken Treasure'.
Whichever of the many teddy bear themed parachute games the children play, one things for sure, there will be plenty of laughter and smiles!
For ages: 3 – 6 years.
Picnic Story Time
Once upon a time the children were invited to a very special DNA Kids party that included all of their friends and teddy bears.
After playing lots of exciting party games, the children needed to rest their tired feet and fill-up their hungry belly's.
One clever teddy named 'Biscuit' said, "I know, let's all have a picnic together with lots of yummy food and enchanting teddy bear themed stories with colourful pictures to look at."
The children replied, "That's a great idea Biscuit!" So the children sat down and ate their delicious snacks (not supplied) whilst listening to 2 - 3 of their favourite teddy bear stories. The End.
For ages: 3 – 6 years.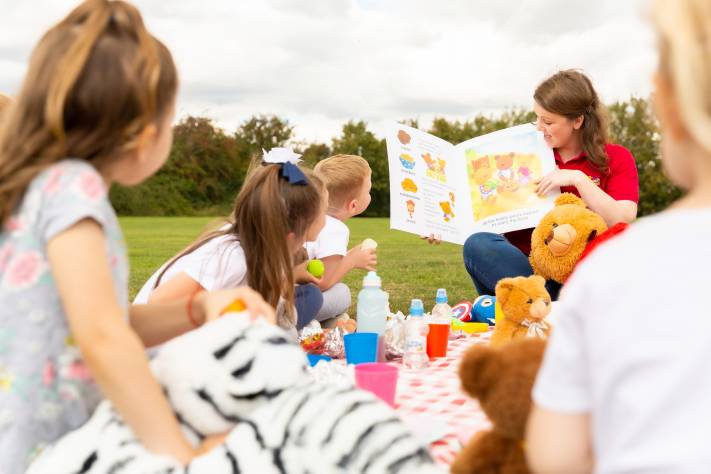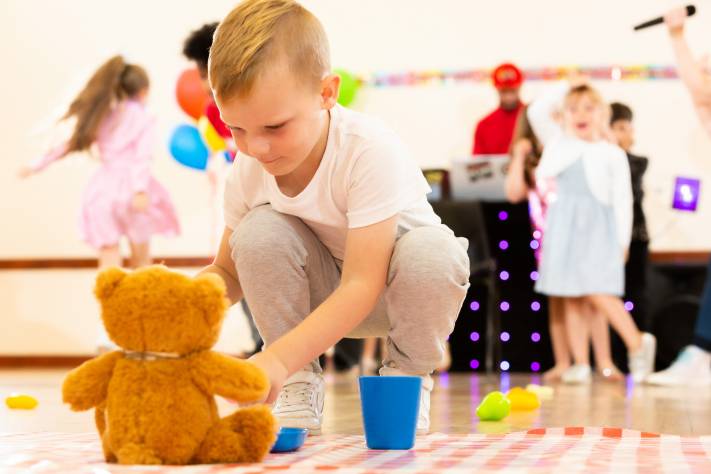 Ready Teddy Limbo!
How low can the children and their teddies go?! Mind your heads and don't knock off the pole, as the children and their teddies play our signature party game and limbo under the pole. Who will be the better limboers, the children or their teddies? There's only one way to find out!
For ages: 3 – 6 years.
Teddy's Picnic Pick-up
Our two loveable teddies, 'Bramble' and 'Marmalade' have ventured into the woods to have a scrumptious picnic together. Oh no! There is a hole in their picnic basket and all the food has fallen out over the floor!
Can our young helpers quickly pick-up Bramble and Marmalade's food and race it to their picnic in the woods before our teddy's bellies start to rumble?!
×
Login to My DNA Kids
Please enter your booking reference and password below. You can find these on your booking confirmation email.
×
Forgotten Password
Please enter your email address below...
×
Forgotten Password
Thank you. We have emailed you details of how to reset your password if your email address matches one of our parties.
If you can't find the email, please check your spam folder.
×