About Our Awesome Teenage Discos
As the heart and soul of any teenage party, the disco equipment needs to be modern and seriously impressive to really bring the dance-floor alive and create that all-important party atmosphere.
We use a professional DJ mixer linked to a laptop running specialist DJ software. Our teenage party DJs can search for music requests in a matter of seconds and then add them to your music playlist.
So that your songs sound amazing, we use high-quality disco speakers with built-in digital amplifiers and for complete peace of mind, we carry back-up audio equipment.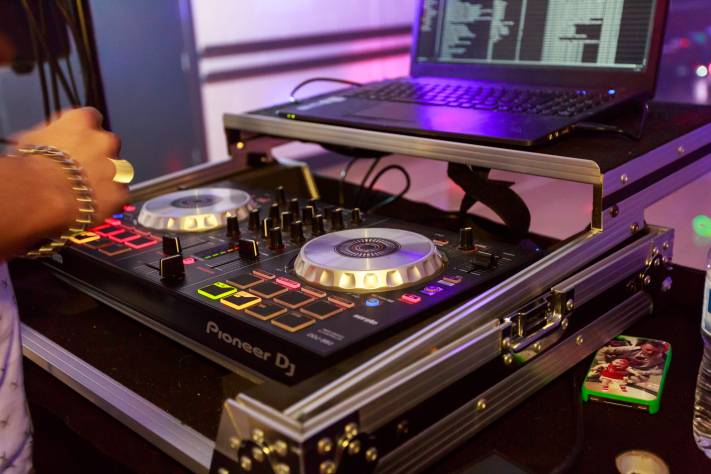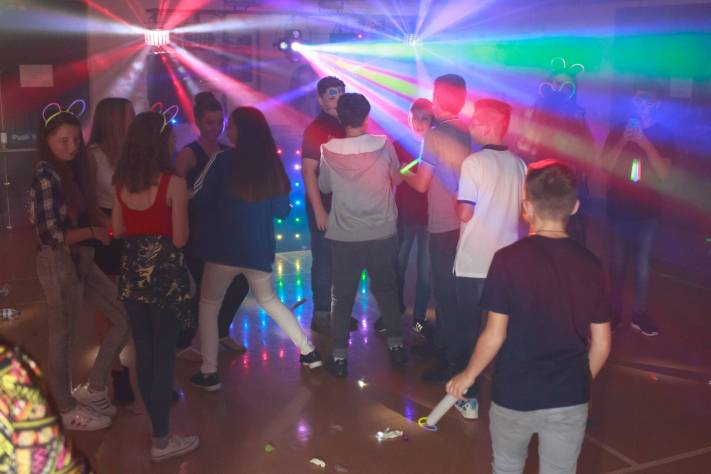 Stunning Lights
To achieve the grown-up mini night-club feel that the teenagers love so much, we use a multi-coloured laser, multiple FX lights, high-powered strobe (optional) and a vibrant LED star cloth.
The FX lights and laser project coloured shapes around the venue for added visual excitement. For our UV Glow Party, we also add two high-powered UV (ultra-violet) lights for a playful glow-in-the-dark effect!
With the exception of the star cloth, all of our disco lights sit on a goal-post style framework above the disco decks. By having the lights situated up high, you get a much better spread of lighting for a more dramatic effect.
Fun Machines!
We include the free choice of a smoke, snow or bubble machine with our teenage parties. We also offer a UV bubble machine with our UV Glow Party.
Both the UV bubbles and snow glow under the UV lighting, whilst the smoke rises in the air causing the laser and FX lights to project spectacular beams of light down the venue. Please check whether your venue has smoke alarms first.
We would love for you to join us on social media! Simply Like our Facebook page or Follow Us on Instagram or Twitter and as a thank you for doing so, we will supply a free second machine (usually a cost option). View our offers page to find out more.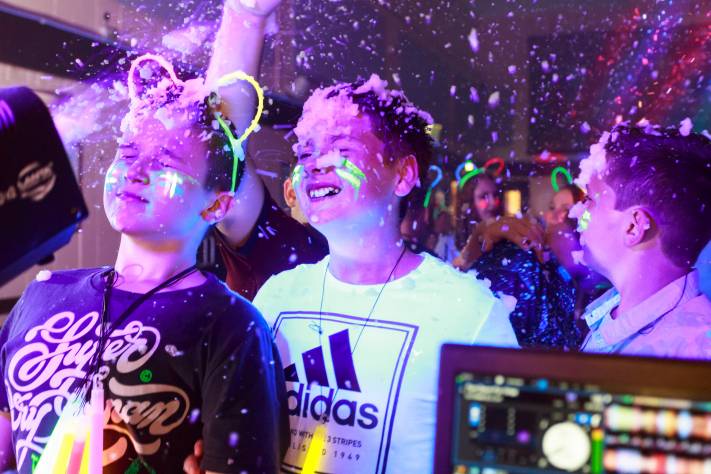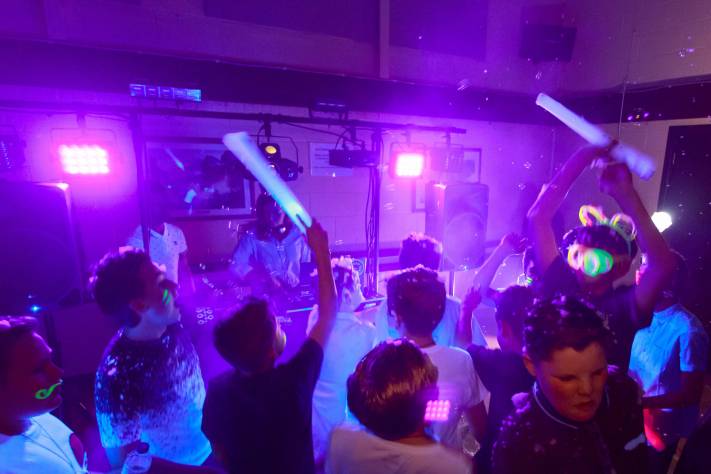 Good to Know
Follow our top tips to get the best out of your DNA Kids teenage party!
Our teenage discos take up a space of approx. 7ft in width, 4ft in depth (approx. a large two-seater sofa) and 7ft in height.
Equipment setting-up and down time takes 1 hour either side of your party time (based on a ground floor venue). Please note: upstairs venues require an additional 15 minutes setting-up and down time.
If your party venue has a stage, we recommend placing the disco on it for a more grown-up feel and a better spread of lighting.
If you know your party venue has a sound limiter please let us know so that we can make the DJ aware.
If you are having an outdoor party, as the British weather can be unpredictable please consider a contingency plan if it were to rain, such as a marquee, gazebo or space in your home.
×
Login to My DNA Kids
Please enter your booking reference and password below. You can find these on your booking confirmation email.
×
Forgotten Password
Please enter your email address below...
×
Forgotten Password
Thank you. We have emailed you details of how to reset your password if your email address matches one of our parties.
If you can't find the email, please check your spam folder.
×