Wacky Science Show
Join our wacky scientist as they perform cool and exciting science experiments that will have the children both mesmerized and in fits of laughter at the same time!
Fiery Bubbles
A responsible scientist thinks 'safety first' before embarking upon any science experiment. Thankfully, our wacky scientist is a true professional and would never accidentally wash their hands in a bowl full of butane gas bubbles, let alone set fire to it… would they?!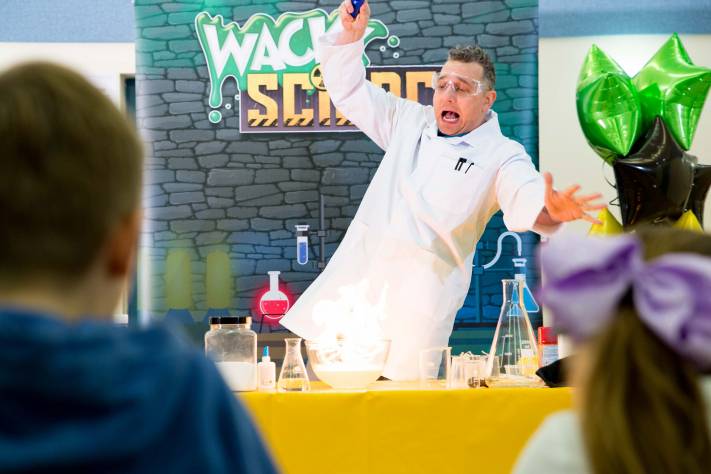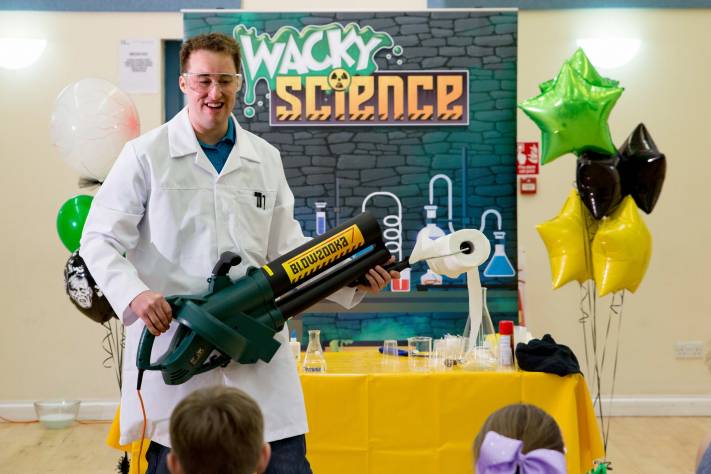 Mmm… Air Doughnuts!
We love doughnuts, especially when they are circles of air being fired from our awesome Air Gun by the birthday child in an attempt to knock off objects from the adult volunteer's heads!
For added fun, we even spray a lovely 'candy floss' scented smell into the Air Gun. At least that's what we think the label said?!
Be Blown Away!
Imagine how cool it would be if you added a roller to the bottom of a BLOWZOOKA electric air gun, put two toilet rolls on to the roller and then fired them streaming into the audience to demonstrate 'lift' (how an aeroplane takes off).
Exactly, we thought it would be really cool too, so we do!
Woof Woof!
After the monkeys caused chaos throughout the wacky science lab and Professor Bunsen banned all pets, how is our wacky scientist going to cope being without their best pal Barney the dog? We know! Invent man's next best friend… Liquid Dog Bark!
The Gooiest Slime Making
No Wacky Science Party would be complete without gooey green slime making. The birthday child will get hands-on making their very own slippery slime.
Once they have created and named their perfect slime, it is then placed into a 'Professor Bunsen Approved' pot for them to take home!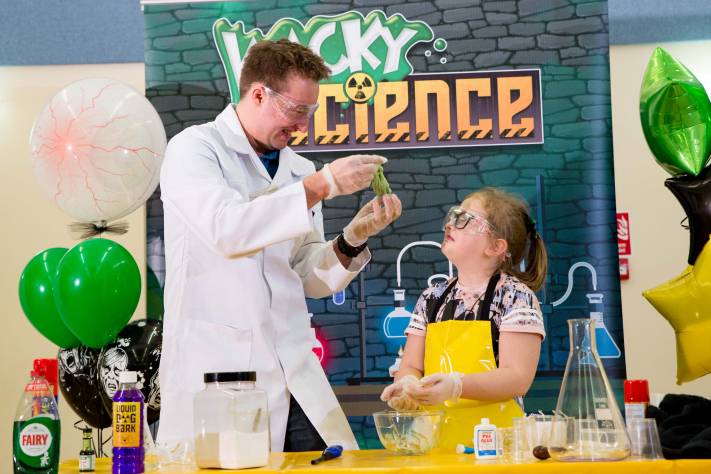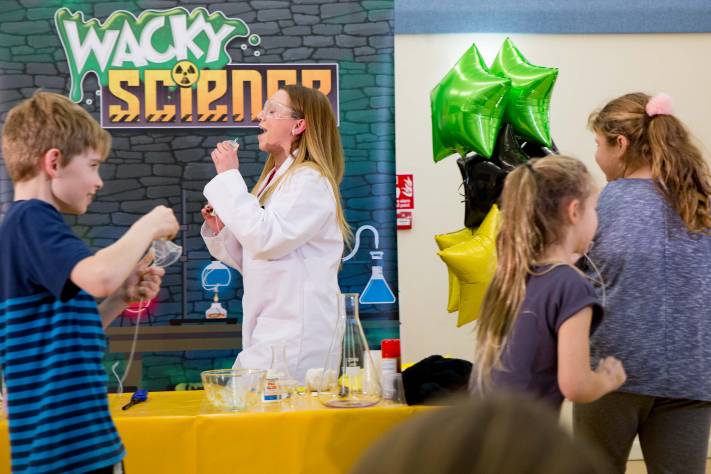 Crazy Chickens!
Awesome science can be simple, cheap and performed anywhere! At the end of the party the children will be provided with Science Fun Sheets, which have four exciting and inexpensive experiments for them to try at home, including 'Chicken in a Cup!'
To demonstrate how much fun simple science can be, our wacky scientist will hold a 'chicken-off' with some crazy volunteers!
Standby for Blast Off!
After being advised by NASA that launching real rockets at children's parties was not a "cool idea", we decided to create our own mini rockets and boy do they fly! The birthday child and a few friends will join our wacky scientist at the rocket launch pad where they will safely launch high velocity mini rockets into the air!
Sweet Cannon Finale
What better way to finish the Wackiest Science Party than with a sweet canon finale!
After the birthday child has chosen their favourite song to finish on, the children will get to show-off their best dance moves one last time, as our wacky scientist uses the BLOWZOOKA air gun to fire packets of sweets safely into the crowd!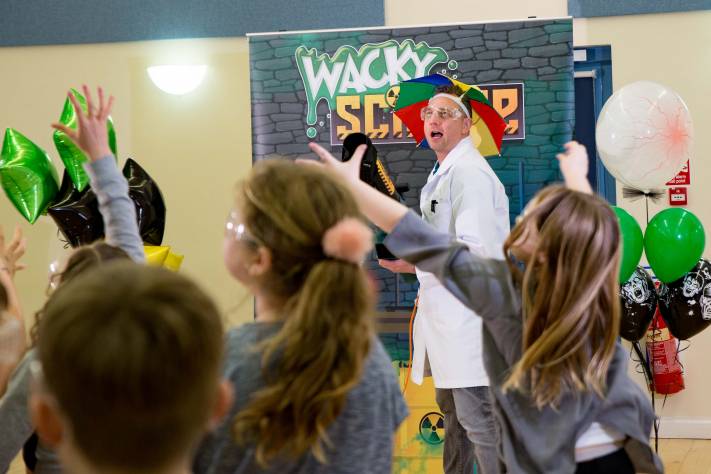 ×
Login to My DNA Kids
Please enter your booking reference and password below. You can find these on your booking confirmation email.
×
Forgotten Password
Please enter your email address below...
×
Forgotten Password
Thank you. We have emailed you details of how to reset your password if your email address matches one of our parties.
If you can't find the email, please check your spam folder.
×