12th Apr 2018
The Choice of Big Brands & Celebrities!
Office blogger John offers an eye-opening look into our diverse portfolio of customers.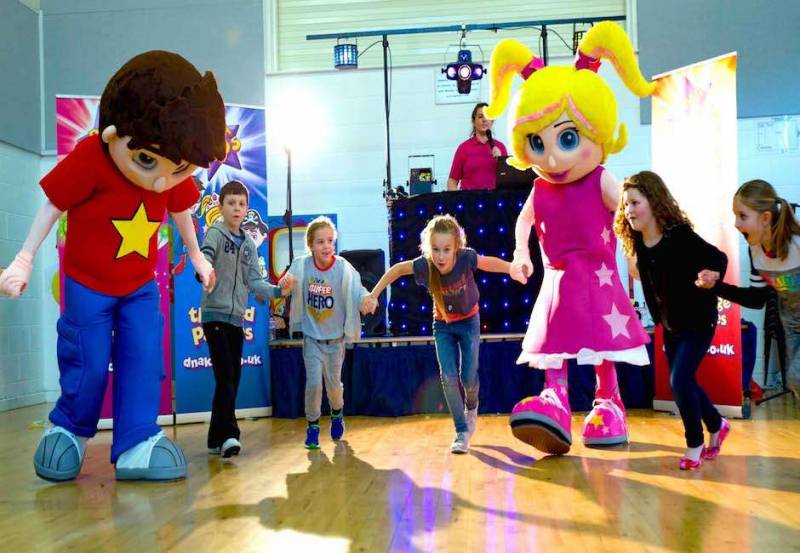 DNA Kids have been partying for 26 years and we are currently on the road to performing our 50,000th kids party… phew! We are constantly performing children's parties to many families and companies across the UK. It's fair to say that we have the knowledge and expertise in putting together a fantastic children's party – check out our glowing
reviews
!
I work on DNA Kids busy careers team and I can attest that it is just as exciting as being an entertainer! I have the privilege of working with the liveliest, nicest and most dedicated people you will ever meet.
One of the great things about recruiting entertainers is being able to incorporate their skills and previous experience into becoming one of our fantastic DNA Kids entertainers through our unique, high-quality training program.
World Class Entertainment
Our kid's entertainers have worked for many different holiday camps and theme parks across the globe. Thomas Cook, Tui, Havens, Pontins and Camp America are just a small few of the holiday companies that our kids' party entertainers have chosen to kick-start their colourful careers with.
Disneyland Paris and Disney Cruise Line have also provided the perfect platform for jump-starting some of our entertainer's early careers.
Celebrities Love Our Parties Too!
We are delighted to have worked for many high-profile celebrities. From rock legends and sports stars, to super-models and actors; we have proudly provided action-packed party entertainment for many famous faces!
You may even recognise some of our entertainers on the big (and small) screen. From reality TV shows such as The X Factor through to The Chase and Countdown to name but a small few; our talented entertainers love to take over the box!
They can also be found alongside some of your favourite TV characters in award-winning soaps like EastEnders (BBC), Coronation Street (ITV) and Emmerdale (ITV).
A few of our children's entertainers have also made it on to the big screen in recent Hollywood blockbuster movies such as, Ready Player One (2018) and Disney's upcoming live action Aladdin (2019).
You are in Good Company
At DNA Kids, we have been fortunate enough to have built-up a large customer base over the years. As well as being the 'Children's Favourite Party Entertainers' for birthdays, christenings, school discos and leaving parties, we have also performed at many Christmas, Easter, Halloween, charity and corporate events. You may even recognise some of our larger corporate customers:
Retail: Sainsbury's, Tesco, Waitrose, ASDA, Hamley's, M&S, Morrisons, Co-Operative, John Lewis, H&M
Services: NHS, Metropolitan Police Force, The Royal British Legion, Royal Tank Regiment, British Gas, RAF, Fire Service
Banking: Barclays, HSBC, Lloyds, Natwest
Charities: Cancer Research UK, Make-A-Wish, Macmillan, Barnardo's
Health & Beauty: Kimberly-Clark, Johnson & Johnson
Manufacturers: BMW, Ford, Mercedes-Benz, Microsoft, Britvic
Other: Kimberly-Clark, David Lloyd, Scouts, Brownies, Holiday Inn
It's not just well-known companies and celebrities our kid's entertainer's have performed for, they have also performed in many exciting venues, including The National Theatre, Her Majesty's Theatre, The Belfast Opera House and The Royal Albert Hall.
Experience the Excitement for Yourself!
There are many things that make DNA Kids parties so popular with 4 – 14 year olds (over 2 million children have experienced a DNA Kids party). From our professional children's entertainers and hilarious party games through to our awesome discos and fun giveaways.
And with our 50,000th kids' party just around the corner, now is the perfect time to showcase DNA Kids diverse portfolio. More importantly, I am especially excited about what is yet to come if you book an amazing DNA Kids party and the fantastic and memorable experience your little (or big) ones will have!
×
Login to My DNA Kids
Please enter your booking reference and password below. You can find these on your booking confirmation email.
×
Forgotten Password
Please enter your email address below...
×
Forgotten Password
Thank you. We have emailed you details of how to reset your password if your email address matches one of our parties.
If you can't find the email, please check your spam folder.
×