14th Apr 2020
Fun Indoor Activities for Kids | DNA Kids
Birthday parties cancelled, events postponed, it isn't looking great for birthdays. Until now! We've got some great indoor ideas, check them out!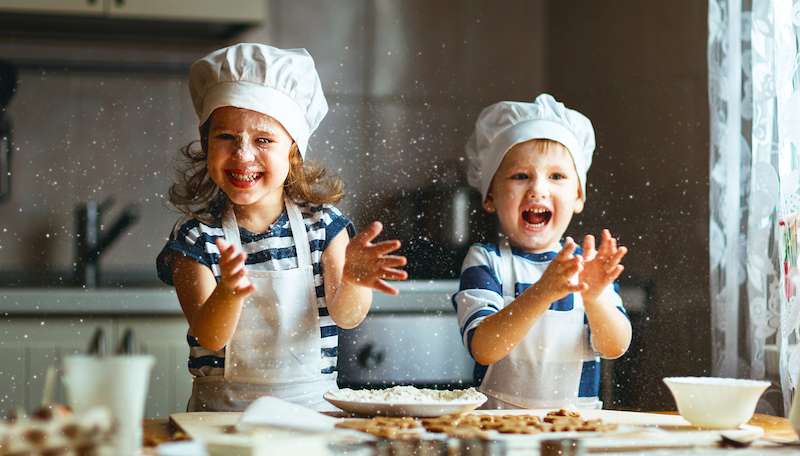 If you've had a birthday party cancelled and you are struggling to find ways to entertain your child, look no further. These are uncertain times for everyone, and it may seem difficult to explain to your child why they have to spend their birthday at home. While we cannot offer advice on breaking this sour news, we can give you some fun activities to soften the blow, perhaps even slime the blow…
While your kids and their friends may be stuck at home, that doesn't mean that these activities have to be undertaken solo. Have you heard of Houseparty? It's an app, and with parental supervision, your child can still have fun with their friends, while taking part in one of our suggested indoor activities.
So, get the video conferencing going, and let's party!
Activities for Everyone
There are loads of indoor activities for you and your children, even if it is not their birthday party. If you had an upcoming party planned or you want to do something a little different, have a go at these!
Bake and Decorate Cakes
Yes, we know, not many points for creativity here, but c'mon – it's a classic. Why not let the little one join in on baking and decorating their own cake? You can get creative, why not look up an elaborate idea and see how they fare in making their own reincarnation? That could be a great way for you to let them loose in the kitchen, yes they'll create a mess, but you'll laugh the whole way through. And, when the cake is made – no matter how it looks – it will be edible!
Why not make it a competition, if you're using Houseparty or another video app, get their friends and their parents in on it! See whose cake is the king, or queen, among all cakes!
If you've never seen the show Nailed It! Then feel free to take some humorous inspiration from here.
Even if you don't have a birthday coming up, it's an excuse to get baking, and all create a tasty treat.
Let's Get Quizzical
Time to create a quiz. You know what your child enjoys, so make the quiz focused around things they will know the answers to, need some help? Try this quiz out. Hop on a video call with all of your little one's friends. It may be noisy, but this will put a smile on their faces. Be the quizmaster and have a prize that can be sent easily through the post!
If quizzes are not your child's thing, try virtual party games like charades, what am I, or get creative and see how you can adapt party games on video.
Treasure Hunt
If you have already brought the gifts for the birthday boy or girl, turn this into a treasure hunt. Or use your children's toys, sweets or chocolate, as the prizes. Hide your child's favourite toy and set up a hunt to find it.
There are lots of at-home fabulously fun ideas for you and the whole family. Take a look at our other suggestions in the article exciting at-home activities for all the family this winter.
DNA Kids TV
Whether you have an upcoming birthday party, or you want to put a smile on your child's face. We have a ton of fantastic videos that you can tune into. Head on over to our Youtube Channel, with lots of videos all ready for you to watch; they offer free entertainment for you and your little ones to watch while we are all at home.
Activities such as slime making, baking and dancing are all covered. So head on over to DNA Kids TV.
Cancelling or Postponing a Party
Take a look at our cancellation or transfer process where you can see all your available options during this time. We understand the trouble that you might be facing due to COVID-19, and we want to reassure you that we are here to support whether you are booking a party or just enjoying our content. Please do get in touch with any queries about your booking. Stay safe and at home with these awesome activities.
×
Login to My DNA Kids
Please enter your booking reference and password below. You can find these on your booking confirmation email.
×
Forgotten Password
Please enter your email address below...
×
Forgotten Password
Thank you. We have emailed you details of how to reset your password if your email address matches one of our parties.
If you can't find the email, please check your spam folder.
×