5th Feb 2018
Get ready for the 2018 World Cup with our Soccer Superstar Football Party
Office blogger Charlie explains how to create your very own World Cup!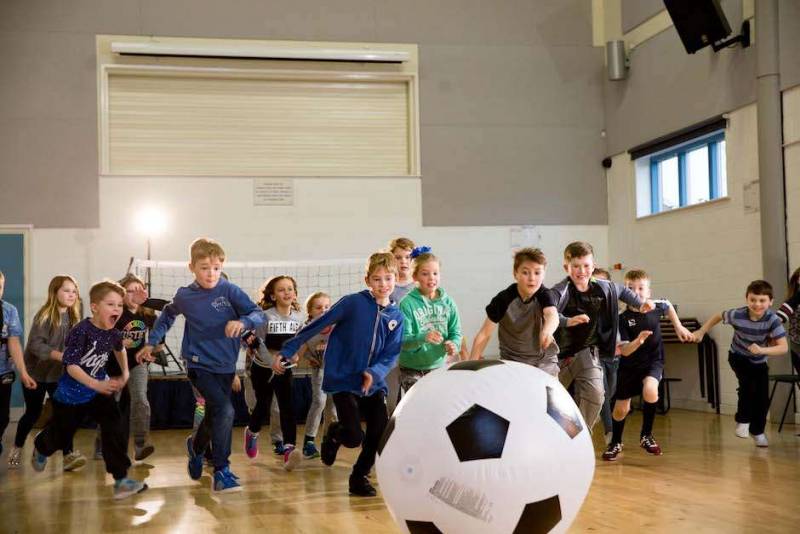 It's just a few months now until the start of the 2018 summer
World Cup
, it's one of those rare events that somehow manages to involve an entire nation. You've seen it happen – people who claim to have never enjoyed a football match in their life suddenly become enraptured with the beautiful game.
It doesn't matter whether you're old or young, male or female – the World Cup is a magical event. It gives the kids something to focus on over the summer holidays too. For the football obsessed, there's nothing more exciting – you get to play soccer every day and you get to pretend to be Cristiano Ronaldo whilst you're doing it.
Of course, most little boys – and some little girls – are doing that already, but seeing the bright lights and the massive stadiums on television can turn a fun hobby into a lifelong passion. It's okay, we secretly all want our kids to grow up and earn the type of salary that Lionel Messi tucks away every single month.
The impending World Cup is a great excuse for a party, especially if the summer turns out to be a bit of a scorcher. There might be a birthday nearby, or there might not – here at DNA Kids, we believe that you never really need an excuse to party. Why not make the summer one to remember by throwing our specially designed Soccer Superstar Football Party?
We have a wide range of children's parties on offer – for young kids and older ones too – so that your little ones can always celebrate in style. The Soccer Superstar Football Party package is perfect for kids with bags of energy and a keen interest in having a good time.
You don't have to be a diehard footie fan to enjoy this party either – well, at least not at first. If you don't arrive a soccer fan, you'll certainly leave as one that's for sure – it's a mission we don't take lightly either!
A Party Of Two Halves
This is a party of two halves (pun intended) – we start with our superstar Training and Skills Course. This is a multifaceted activity run which tests the agility and the ability of your party guests. We provide all of the equipment, so don't worry about trying to source a family sized pack of dribbling cones on your one day off in the week.
We've got agility ladders, cones, reaction hoops and hurdles – all ready and waiting to be conquered by your little soccer stars. The Training and Skills course is designed to get the blood pumping and the fun coursing through our veins, because it's followed by something a little bit wilder. It's important to note that at this point, you'll instantly put down your glass of grape juice and beg to join in.
Bags Of Inflatable Fun
Yes, that's right. We've got a giant inflatable football and we're not afraid to use it to have a good time. The second half of our superstar football party is, of course, the beautiful game. With a 75cm diameter inflatable football on the pitch, it won't be long before party guests are rolling around on the grass clutching their bellies.
It's because inflatable football is a truly hilarious game, not because they're feeling the after effects of those out of date sausage rolls you bought reduced from the supermarket – don't worry. There are no goalkeepers allowed in this game, so expect lots of very strange defensive manoeuvres. It's a great excuse for dad to get involved in the celebrations too, presumably whilst mum puts her feet up with a good book.
A Frantic Football Fan
As if that weren't enough off kilter fun, we've got another specially designed game that we know the kids will love. It's called Frantic Football, because it's fast paced and it's a whole lot of fun. It's really easy to play, so children of all ages can get involved. Our Soccer Superstar Football Party is suitable for guests aged between five and eleven years.
We always tailor our events to each different party – for slightly older children, it's usually necessary to make the games a little bit more challenging. During the initial consultation process, you can discuss the age range and specific requirements of your guests with one of the experts on our team here at DNA Kids.
When it comes to Frantic Football, all are welcome – it involves listening carefully for your number, before dashing onto the pitch and trying your very hardest to score a goal for your team if it is called out. The range of games on offer with this party package is actually rather diverse. They're all football related, of course, but there's everything from Frantic Football to Keepy Uppy, even a Soccer Superstar World Cup Tournament.
Points Make Prizes
There are plenty of prizes on offer for party guests who impress with their fancy footwork. In fact, there are prizes for anybody and everybody bold enough and brave enough to have had a good go at it. This is one of the best things about DNA Kids party events – even those who don't quite make it to the final stages of our games get a special prize, just for being a good sport and for being a super party guest!
×
Login to My DNA Kids
Please enter your booking reference and password below. You can find these on your booking confirmation email.
×
Forgotten Password
Please enter your email address below...
×
Forgotten Password
Thank you. We have emailed you details of how to reset your password if your email address matches one of our parties.
If you can't find the email, please check your spam folder.
×