22nd Jan 2018
Kids party food favourites
Office blogger Charlie discusses the most popular party food.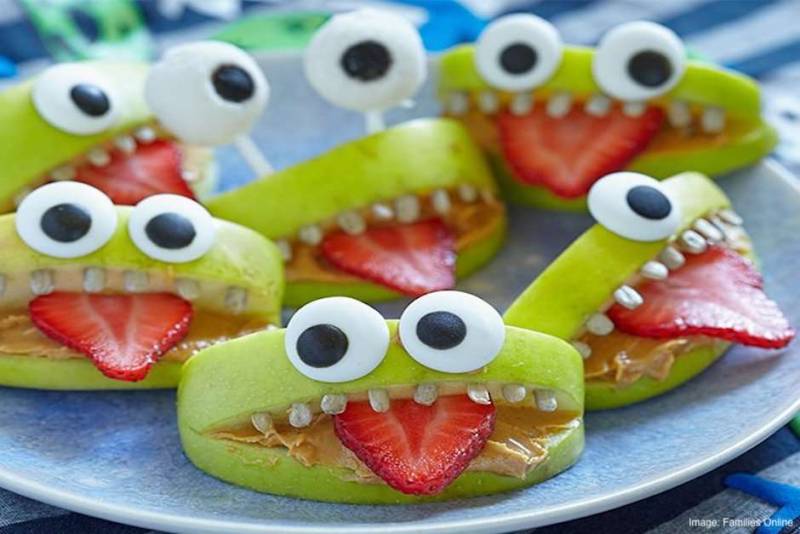 What are some of the best foods for kids' parties? Getting the right foods for a kid's party means having a balance of healthy and fun choices that can cater to a wide range of different children.
You also have to take into account whether there will be any vegetarian or vegan kids at a party, and how much you can practically manage on the day in terms of portions. At DNA Kids, we understand the effort that goes into putting together a kids birthday party, and have collected some of the best party food favourites below.
Party Staples
Kids party food shouldn't be overly complicated or costly to put together; you need to consider the age of the children that are attending, as well as the time of the event and whether there are any specific dietary needs.
At the same time, you could speak to parents about whether they have any rules over junk food, so you don't end up skipping on vegetables and fruit. The venue for the party will also affect how much space you have for tables, and whether you'll be able to serve hot food.
Sandwiches
One of the first items you should be focusing on for your kids' party menu, sandwiches can be quickly put together and replenished during the day if they start to run out. Look to use a range of different fillings, with cheese, ham and meat choices typically a good idea.
You can also go for sweeter sandwiches that contain chocolate spread or jam, as well as marmite and other spreads that can be added to a table for children to choose from.
Sausages
Cocktail sausages on sticks are another party choice that can be easy to buy in bulk, and are traditional favourites for different kinds of parties – watch out for the sticks, though, when serving young children.
Sausage rolls can also be served, while sausages might be included with rolls and as part of sandwiches. You can buy cocktail sausages and freeze them for the day, and can look into vegetarian and vegan sausages suitable for different diets.
Mini Pizzas
There are many advantages to going with mini pizzas at a kids' party; they can be bought in bulk and heated up for the day, or can be made with some pizza dough, chopped tomatoes and a range of different ingredients if you want fresher choices.
If you're in an adventurous mood, you might want to make several different batches of mini pizzas at home in the run up to a party.
Vegetables & Fruit
To balance out the sweeter items on your menu for a kids' party, you can include plenty of fresh vegetables and fruit; this can include carrots and celery sticks with dips.
Other options include chopping up vegetables to serve as part of a salad, or including apple slices. Vegetable crisps and crackers, as well as different kinds of popcorn, tend to be a good idea if you want to go for healthier alternatives to salty crisps and foods that are high in fat.
Chocolate
Another staple for kids' parties that is easy to prepare, chocolate fingers can be served without any preparation, and can be adapted for Halloween and themed parties.
Older children may appreciate a chocolate fountain, although this can end up being a bit messy if not properly supervised on the day. A chocolate themed party is also an option, and can include chocolate milkshakes or hot cocoa, as well as chocolate dips for pretzels.
Cakes
As well as a birthday cake, which should be put together depending on what the birthday boy or girl has asked for, you can fill up a table at a party with a range of individual cakes and cupcakes.
Ideas can include fairy cakes, as well as cupcakes with various types of icing and frosting. Sponge cakes, vanilla cakes, and miniature cake pops can be good ideas if you want to introduce some variety to your next kids' party.
Crisps
Stock up on crisps in advance of a party, and have some as a backup in case supplies start to run a bit low. Ready salted and cheese and onion crisps are reliable options, as are kettle chips.
Make sure that you have plenty of dips on hand, and look into picking up alternatives such as nachos if you want to offer more choices to children and their parents at a party. Root vegetable crisps can also be put together if you want to try something a bit different.
Vegetarian options
Most of the options at a kids' party can be tailored to vegetarian children; this can include vegetarian sandwiches, as well as dips and crisps.
Picking up some vegetarian sausage rolls and pizzas, as well as pita bread, spring rolls and other easy to find snacks will also reduce the amount of time that you need to spend on finding suitable food, while most supermarkets will have a section of frozen vegetarian-friendly snacks.
Vegan options
As with food for vegetarian children, vegan options can be bought at a low cost and in bulk; just pay attention to ingredients to ensure that you're not serving snacks that have gelatine or anything else that's taken from an animal.
There are many vegan alternatives that can be used as replacements, including vegan chocolate, sweets, and simple party food like tortilla chips, pretzels and dried fruit mixes.
Before planning the food for a kids' party, discuss with your child what they want, but remember to be practical. Check out the selection at local supermarkets, and ensure that you have enough space in your fridge and freezer.
You can also match your kids' party food to a theme, which can involve using cake pops, or just serving food with themed plates and decorations. Speaking to us in advance about your food ideas can also make it easier to know what can work well with our different kinds of DNA Kids parties.
×
Login to My DNA Kids
Please enter your booking reference and password below. You can find these on your booking confirmation email.
×
Forgotten Password
Please enter your email address below...
×
Forgotten Password
Thank you. We have emailed you details of how to reset your password if your email address matches one of our parties.
If you can't find the email, please check your spam folder.
×