22nd Jan 2018
How to make great party bags without breaking the bank
Office blogger Charlie offers some great money saving tips for making the perfect party bags.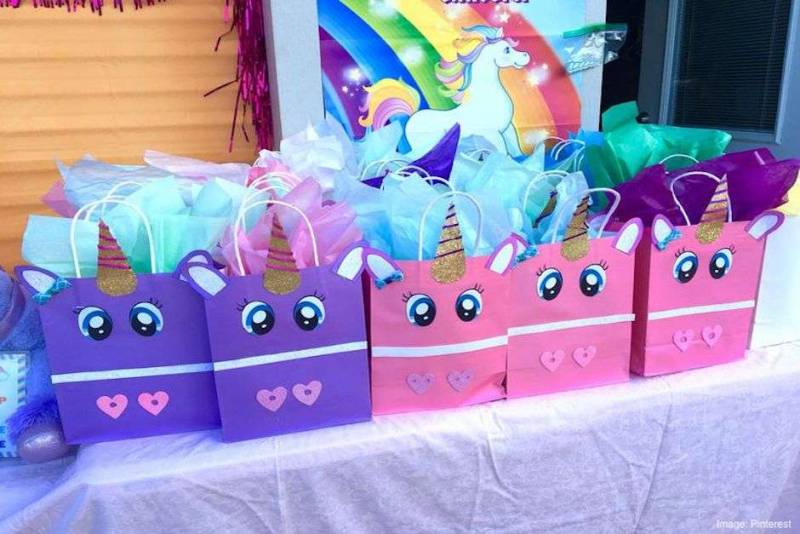 The party bag is one of the most essential elements to making a kids' party a success. However, it can be a challenge to decide on how to make and fill party bags without spending a significant amount of money, particularly after you've already put together the rest of a party.
At DNA Kids, we're always looking for ways to make kids' parties run more smoothly, and are focusing today on how you can put together great party bags without necessarily having to break the bank. So, what can you do to make great bags?
Deciding on a Theme
It's first important to plan out how a party bag can contribute to the overall theme at a kids' birthday party, as this can make it easier to decide on colours and contents.
If you're going for a party themed around favourite characters, then you can often find discounted bags and items such as stickers and colouring books that can go well with bags. Alternatively, you can simply match up your party bags with a colour scheme or a more general theme, such as a beach or sports party.
Saving Money
If you're looking for alternative party bags that aren't going to put a strain on your budget, it's worth looking into bundles of toys, balloons and other items from discount shops – you might find you can build up a large collection of wooden toys, jigsaws, pencils and pens that can fill up bags.
Discount shops and wholesalers are also good places to find offers on sweets, which can be spread out between bags without having to add much to your catering budget. Other ideas can include going for a collection of small books, which can be tied into your party theme.
Smaller books can be bought in bulk, and can link together favourite characters, or can just be puzzle books or colouring books. For younger children, it might be worth picking up some board books or soft play books. Check second hand sales and charity shops to find these kinds of items.
To get more out of bags of sweets, you can experiment with different holders and opportunities for personalisation. Consider going for party cups and lucky dip bags, as well as ready-made mixes of sweets that can be placed into plain boxes and then decorated.
Bags of traditional sweets can also be tied up in your own bags with ribbons, or you can make your own cupcakes and cake pops to be handed out after a party. A slice of party cake to take home is also a good idea.
Buying for Very Young Children
For younger children, or typically those under five, you can look into building up a collection of small toys and other items that aren't going to be a choking hazard.
Boxes of crayons, sponges, bath toys, or a bucket and spade if you're having a beach themed or summer party can be worth picking up, as can miniature biscuits and hair accessories. It can similarly be worth speaking to other parents to see what will be suitable for their children, in this instance.
Seeds
If you want to go for something a bit more unusual at a kids' party, you can put bags of seeds and tags in party bags; these can be bought from local gardening stores, and can include a personalised message instructing children (and their parents) on how to grow them.
Sunflowers and seasonal flowers and plants can be good ideas, and can be complemented with more traditional sweets and toys if you still want to include them with a bag.
Teenage Parties
While many teenage parties won't feature traditional party bags, that doesn't mean you can't provide items to take away at the end of an evening. LED glowsticks can be a simple solution for UV Glow Parties, one of our specialties at DNA Kids, and can be given to teenagers to take home with them.
UV bracelets, face and clothes paint can also be handed out, as can glow pens and other items themed around a disco party, which can typically be bought in bulk.
DIY Ideas
One of the best ways to put together party bags without breaking your budget is to provide DIY toys and craft items; this can include hand and finger puppets that can be made during a party using felts and templates.
Alternatively, you can make your own, using the party's theme as a guide for designs. Finger puppets can be made more straightforward by drawing or printing onto paper and then cutting out shapes to place on top of sticks.
You can similarly look into making DIY party bags with recycled and upcycled materials, as well as hand-painted notes and drawings. More traditional kids' parties can be enhanced by designing your own bags, and by using old-fashioned sweets and wooden toys.
In this way, the party bag can be a present itself, and can be used as an excellent reminder of the party, and personalised for individual people at a party if you don't have a lot of attendees.
It's also possible to get kids to decorate their own bags, which can represent a fun activity during a party. Again, investigate how you can make decorating party bags work with a theme, whether that means making jewellery for a princess party, or encouraging children to paint white t-shirts with different designs and messages for a beach party.
In addition, parties where children can bake their own cupcakes can be a good way to create some extra food for bags. As always, you should make sure that your plans for a kids' party are flexible and have some back-up options if things don't go quite the way you planned them.
Looking around for low cost sweets in bulk, as well as items that you can easily add to bags if you're running low, or if you have extra children attending, can be important. At DNA Kids, we can work with you to ensure that entertainment choices and games will work with your overall theme and your party bags, allowing you to plan a great party.
×
Login to My DNA Kids
Please enter your booking reference and password below. You can find these on your booking confirmation email.
×
Forgotten Password
Please enter your email address below...
×
Forgotten Password
Thank you. We have emailed you details of how to reset your password if your email address matches one of our parties.
If you can't find the email, please check your spam folder.
×