17th Sep 2020
Virtual Halloween Party By DNA Kids
Celebrate Halloween safely this year with the world's first Virtual Monster Party! Treat your little (or big) monsters to a Halloween Party that is packed full of ghoulish games, monstrous music and much more!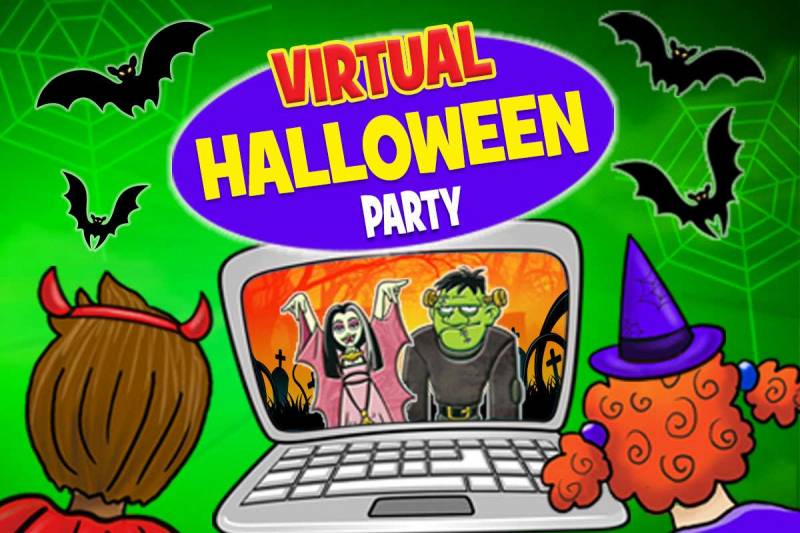 Fang-tastic Online Halloween Party Fun!
Don't Let Your Monsters Miss Out This Halloween!
With trick or treating and live Halloween parties possibly being put on-hold this year, at DNA Kids we are determined that children across the UK (and beyond)* can continue to celebrate and have the happiest of Halloweens from the comfort of their haunted houses!
Using our Spook-tacular Monster Party as the perfect starting point, we have worked our Halloween magic to bring you and up to 98 of your fiendish friends a fancy-dress based Virtual Monster Party that is packed full of monster and Halloween themed fun!
Choose between 5 party lengths – 30, 45, 60, 75 or 90 minutes.
Our Virtual Monster Party is not only shockingly good for friends and family but also for schools, charities and organisations looking to make this Halloween one to remember!
If you are new to kid's Zoom parties, read our ultimate guide to hosting a fun-filled virtual children's Halloween Party!
*Available in English speaking countries only.
Great Halloween Themed Games
Our wicked Halloween themed party games will completely engross your mini monsters from beginning to end. And even though they may be miles apart, they will feel like they are partying at the same Monster Ball together!
We have specially created our music-based Halloween party games to suit an online party format, as well as being friendly & easy for younger ones and involving & challenging for older ones.
From traditional Halloween favourites to new and exciting Halloween themed party games, our highly interactive ghoulish games are perfect for 4 – 11 year olds:
Games For Younger Ones (4 – 7 years)
Apple Bobbing
BOO! Bumps
Casper's Candy Hunt
Monster Ball (includes best monster dancer, fancy dress & themed house)
Mummy Mummy
Spooky Statues
Winnie the Witch Says
Games For Older Ones (8 – 11 years)
Apple Bobbing
Howlin' Werewolves
Monster Ball (includes best monster dancer, fancy dress & themed house)
Mummy Mummy
Truth or Scare
Witches School of Slime
Monstrous Halloween Music
No Halloween Party would be complete without all of the children's favourite Halloween songs to show off their best monster dance moves too!
We also carry the latest pop and action songs and if you are celebrating a birthday, the birthday child is welcome to send us a list of their music must haves!
Terror-ific Children's Entertainer
Our spook-tacular children's entertainer will take complete control of your Halloween Party, so that you can relax with a well-earned witches brew and watch all of your ghastly guests having a wicked time!
If you are hosting a birthday party, our lively children's entertainer will ensure the birthday child feels extra special in front of their fiendish friends!
For an additional £5 incl. P&P, we can perform the DNA Birthday Kid Grand Presentation where the birthday child is presented with an awesome DNA Frankenstein or Vampiress medal live on screen!
Zoom Halloween Parties Made Easy
We have made hosting your Zoom Halloween Party as easy as turning your teachers into frogs… oops! Once your Virtual Monster Party booking has been made, we will send you a secure Zoom link to share with your kooky clan.
On the day of the party, simply click on the Zoom link using a laptop, tablet or mobile phone and then get ready for a happy Halloween Party!
We also offer a free optional video recording of your Virtual Halloween Party upon request, so that you can re-live all the monstrous mayhem!
Prices
30 minutes £129
45 minutes £139
1 hour £149
1 hour 15 mins £159
1 hour 30 mins £169
For further information or to make a booking, call our helpful party advisors on 01245 401 401. Alternatively, check availability and book securely online.
×
Login to My DNA Kids
Please enter your booking reference and password below. You can find these on your booking confirmation email.
×
Forgotten Password
Please enter your email address below...
×
Forgotten Password
Thank you. We have emailed you details of how to reset your password if your email address matches one of our parties.
If you can't find the email, please check your spam folder.
×