27th Jan 2018
Celebrate the start of Summer with our scorching Beach Party
Office blogger Charlie explains why our Beach Party is the must have party this Summer!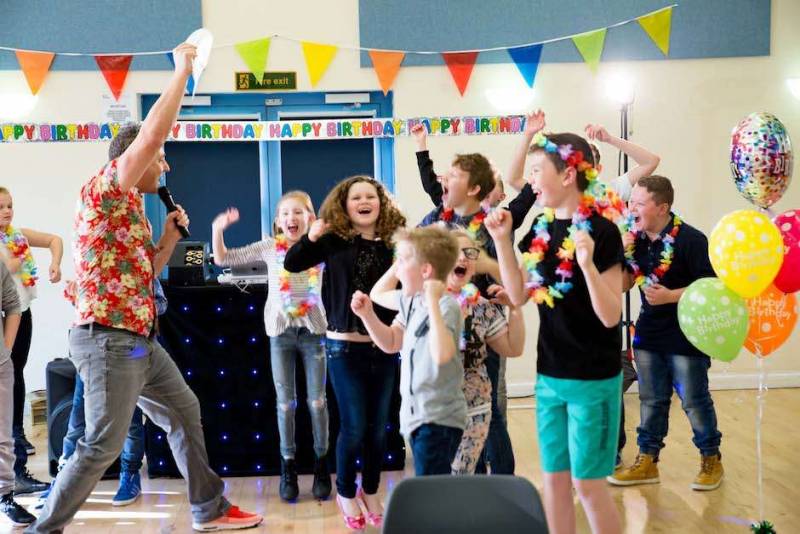 The weather might be more than a little breezy right now, but summer is just around the corner. It won't be long until the little ones are nipping at your heels, asking for days out at the beach and long lazy afternoons at the park.
You've got to admit that there's nothing nicer than watching the kids run and play beneath the sun, their messy ringlets steadily growing lighter and lighter as the summer draws to a close. It is, of course, easy to be this sentimental if you've got a glass of wine or a cold beer in your hand – as is every henpecked parents right after six weeks of constant energy and exuberance.
They might be a handful, but you're bound to miss your children when the summer is through and they're packed off to school once again. Why not make the most of the time that you have by throwing them a summer party to remember?
If you have a little one with a summer birthday close by, what could be better? There's nothing kids enjoy more than a party and the entertainers at DNA Kids are always on hand to make sure that your event is one to remember.
We have a wide range of specially designed parties on offer – for very young children and older ones too – so that your children can celebrate in style. Our events are both dynamic and imaginative – in fact, we aim to leave as little work for you as possible.
The scorching Beach Party package that we offer is absolutely no exception. What's more, it's ideal for kids who need to let off some of the steam that's been building up over the summer. For anybody who doesn't have a bank account like the Beckhams, our beach party is as close to a birthday bash on your own private island as you can get.
Just Like The Real Thing
You might not have any sand in your back yard, but that doesn't mean that it can't be transformed into a tropical paradise. With our help, party guests will leave the safety of the suburbs and journey to a place where the sun is always shining.
They better watch out for Blackbeard though – rumours are he's buried his hidden treasure somewhere close by. There's nothing better suited to inflaming youthful imaginations than a hunt for gold.
Whilst we can guarantee all of the buckets, beach balls and inflatable rings that you need to create the perfect beach bash – we can't guarantee that you won't be roped into looking for buried loot. You'll be facing more than the plank too, if you beat a party of excited five year olds to a cache of sweets and coins.
A Treasure Trove Of Games
The best thing about our beach party package is that it can be catered to a wide range of ages. This event can be modified to fit any child from the age of four to eleven – for older children, the games and activities are altered to be a little bit more difficult.
We know that kids like to be challenged, so we've put together some activities that might get the cogs in their brains moving. There'll be plenty of sweets and prizes for the winners, of course – clever little pirates deserve big rewards, that's what we think.
The best part is that nobody ever gets left out – even those who don't quite make it to the final stages of our games get a special prize, just for being a good sport and for being such an excellent party guest.
If you decide to throw a DNA Kids beach party, there'll be everything from volleyball to limbo competitions and hula dancing. We're fond of the old classics too, so you can also expect some traditional party games like musical bumps as well.
Plenty Of Scorching Sounds
Every awesome beach party needs some hot summer sounds, so it's important to get the music for your party just right. You might have had to spend a frustrated week browsing the annals of iTunes for appropriate party music in the past, but no longer – we'll take care of all of that for you!
In fact, it's the job of our lively children's entertainer. All our entertainers are DBS checked and certified, so no matter which entertainer arrives to help you keep the little ones stimulated – you can be sure that they're safe, super friendly and extremely professional.
As if the party games weren't enough fun, your beach party entertainer will set up specially designed dancing stations, so that your guests can show off their best moves. This is the part of the package that parents tend to be very enthusiastic about later, most likely because it allows an entire party of five year olds to dance off all of that sugar we let them win in the treasure hunt earlier!
You see, we've got all of the bases covered. You can trust the experts at DNA Kids, because we're not just here to make sure that the kids have a good time – we're here to make sure that you can have a good time too!
Letting You Take A Breather
Our biggest strength is the fact that we're all encompassing. These days, it's increasingly difficult to find the time and the money to throw parties for our children. You might have a busy work schedule that means you can't organise a big event all by yourself.
If you go it alone, it can take weeks to organise all of the decorations, food and party invites – there's a lot more to throwing a children's birthday party than you'd ever realise until you try it for yourself. It's a good job that DNA Kids is here to take the stress, frustration and cost out of celebrating your child's birthday in style.
Your level of involvement in the event can be as little or as much as you prefer – just let our experts know what you need the most help with. It's up to you whether it's a case of getting stuck in and hula hooping wildly with the kids on your fantasy island, or sitting back with a cold drink and uttering a whoop of encouragement or two every time somebody wins a big prize!
×
Login to My DNA Kids
Please enter your booking reference and password below. You can find these on your booking confirmation email.
×
Forgotten Password
Please enter your email address below...
×
Forgotten Password
Thank you. We have emailed you details of how to reset your password if your email address matches one of our parties.
If you can't find the email, please check your spam folder.
×