7th Feb 2018
Stay strong, live long – healthy party foods for kids
Office blogger Charlie shares some useful healthy party food tips.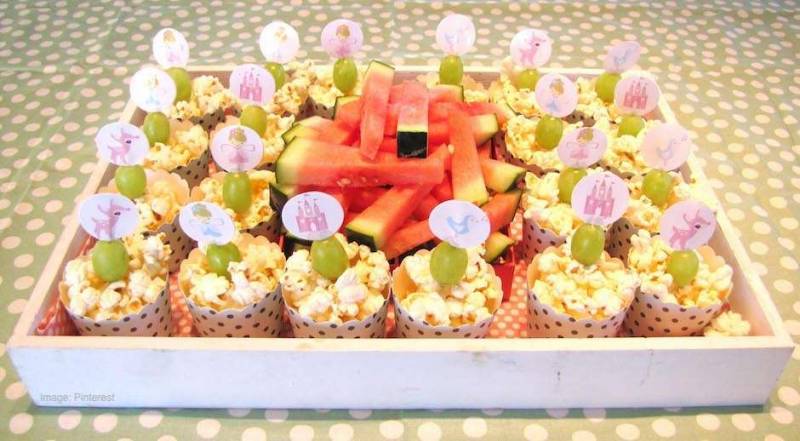 When it comes to throwing a kids party, there are a thousand and one different things that need to be considered. There's lighting, games, decorations, invitations, prizes, costumes, music – it can be a bit of a minefield, especially if you've never thrown one before.
It's lucky that the experts at DNA Kids are here to help take some of these considerations off your hands. Yes, that's right – we'll not only get the party started, we'll make sure that it's one to remember too.
With our range of specially designed party packages we provide state of the art disco equipment, a schedule packed with fun activities and more sweets and prizes than you can shake a stick at. So all you'll need to worry about is the costumes and decorations!
It means that you're free to think about the really important things, like what your guests are eating and whether or not it's good for their rambunctious little bodies. This can be a controversial issue, as can any that involve childhood development.
Whilst there are plenty of parents out there who'd rather die than feed their children chocolate covered cupcakes and jelly worms from the supermarket, there are plenty of others who believe that a little of everything in moderation is the key to a healthy, happy childhood.
At DNA Kids, we do all that we can to accommodate the wishes and needs of parents – this includes scheduling a break for food in all of our party packages. Here is our guide to sourcing and creating health party foods for both your kids and their guests.
How Do I Cater For Children With Special Diets?
If you know that there's a child with special dietary requirements on your guest list, make an effort to talk with their parents. This doesn't have to be a lengthy conversation – five minutes should be enough to set the both of you at ease.
It's easy to forget that it isn't fun for parents to have to refuse their kids treats – a quick chat will show them that you care about the wellbeing of their children. In some cases, it can simply be more useful to ask them to provide their own snacks.
How Do I Know That My Menu Is Appropriate?
If you're at all concerned about the foods that you plan to serve, add a quick description on the bottom of your party invitations. This will allow parents to get in touch with you, if necessary. If you book a DNA Kids party package, we'll send you a specially designed set of party invitations that can be emailed or printed out and posted to guests.
There is space on the back of the invitation for personal notes, or you can leave instructions for concerned parents to call you in the RSVP space.
Are There Any Foods That Should Be Forbidden?
As long as there aren't any guests with severe allergies at the party, it's entirely up to you whether or not you prohibit certain foods. It's important to remember that there's a big difference between being a parent who doesn't impose any restrictions on a childhood diet and being a parent who's content to let their child eat sweeties for dinner twice a year.
The general rule of thumb is to make sure that all guests eat a decent lunch, save their sweeties until after dinner and don't drink too much fizzy pop when they think nobody is looking.
What Should I Serve In Place Of Sugary Snacks?
You'd be surprised at the amount of foods that can be turned into exciting party snacks – things like cheese, yoghurt and potato are a great source of energy for little ones. In fact, anything that can be cut into interesting shapes is a guaranteed winner.
Your guests might turn their noses up at vegetables, but they'll quick wolf down cheese and ham sandwiches in the shape of spaceships and dinosaurs. We recommend sticking with nibbles and snacks that can be eaten with the fingers – things like sausage rolls, fruit kebabs, pizza pops, cheese on cocktail sticks and tortilla wraps.
How Do I Deal With Fussy Eaters?
There are several different ways to deal with fussy eaters, one of the best being the illusion of independence. A lot of children refuse to eat certain foods, because they know that they aren't being given a choice. If let your guests wander around the food table, picking their own dinner – you'll be surprised at what they're bold enough to try.
It can be a good idea to leave healthy dips and snacks like hummus on the dinner table – don't order guests to try them, just watch and see if they give in to their natural curiosity.
Will DNA Kids Provide Food For My Child's Party?
At DNA Kids, we don't provide food for parties – we ask parents to organise their own menu, whilst we take care of everything else. We have found that this is the best way to make sure that all guests get a healthy and nutritious lunch, with the minimum of fuss.
However, we do lend a helping hand when it comes to getting your little ones to the dinner table. If a birthday is being celebrated, the birthday girl or boy will be invited to lead their friends to lunch with a super silly birthday march and song.
The trick is to get little ones so excited about the prospect of eating that they forget their apprehensions and simply get stuck in with their friends.
×
Login to My DNA Kids
Please enter your booking reference and password below. You can find these on your booking confirmation email.
×
Forgotten Password
Please enter your email address below...
×
Forgotten Password
Thank you. We have emailed you details of how to reset your password if your email address matches one of our parties.
If you can't find the email, please check your spam folder.
×