7th Feb 2018
Fang-tastic, frightful Halloween ideas for your little monsters
Office blogger Charlie explains why our Spook-tacular Monster Party is wicked for Halloween!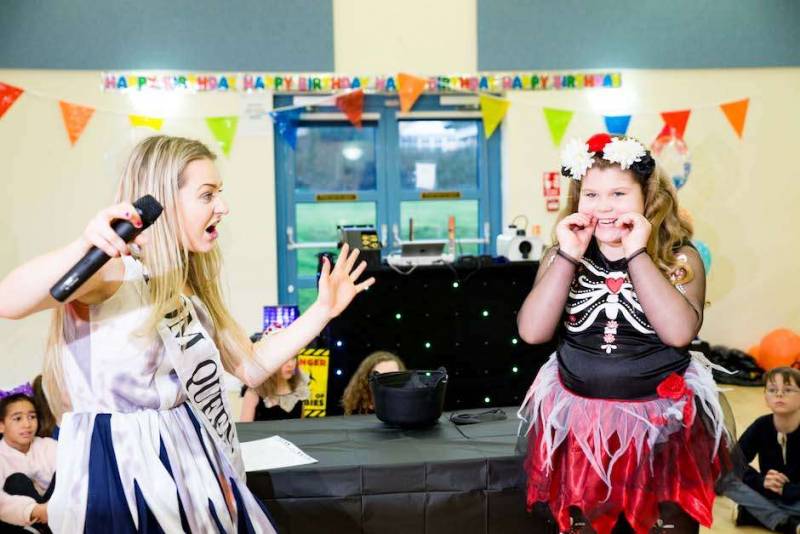 The year is moving faster than ever and it won't be long before it's time to get the fake blood and the pumpkins out again. If you're a big fan of Halloween, you're probably counting down the days until this most spook-tastic of dates finally arrives.
In fact, you'd be surprised at the amount of parents who relish dressing up and making the 31st October a really memorable day for their children. It's understandable – there's only one day in 365 when a parent can get away with scaring the living daylights out of a child and most aren't willing to waste it!
It's time to let loose and have a little fun this year – whether that means decorating the house, cooking up some super creepy edible eyeballs and fingers, or just helping your child win a fancy dress competition.
At DNA Kids, we're here to help you go one further. It's fair to say that any parent can carve a pumpkin and hang some fake spiders on the window – it takes a really special mum or dad to throw a fangtasticly frightful Halloween party. We're talking playing zombie tag, eating jelly worms and playing tricks on your best friends.
We're talking dancing to the Monster Mash, winning Halloween themed prizes and being the very best at Monster Statues. We're talking about the best Halloween party in the world – a little bit scary, very energetic and filled with friends, sweets, fun and prizes. Here are just a few of the reasons why our Spook-tacular Monster Party is the ideal Halloween event for your little spooks.
Devilish Disco
We always kick off our Spook-tacular Monster Party with a really rocking disco. You don't have to worry about supplying the tunes, because we've got a list of Halloween classic as long as your arm – Monster Mash, Thriller, Ghostbusters and lots more…
The birthday boy or girl is, of course, invited to request their favourite songs. If you inform our helpful party advisors of any special musical requests before the day of the party, our lively children's entertainer will make sure that they're met. For children over the age of seven, we've also got Halloween sound FX and jingles. If you like our page on Facebook, we'll throw in a second smoke, snow or bubble machine at no extra cost!
Ghoulish Games
You can't throw a super spooky Halloween party without some super spooky games and activities. We've got a long list of games, suitable for both younger and older children – they can be tailored to fit the age of your party guests:
Monster Statues
Winnie The Witch Says
Pumpkin Panic
Witches Vs Werewolves Limbo
Hubble Bubble Toil & Trouble
Zombie Tag
Not-so Spooky Spider
Truth or Scare
Mummy Mummy
Hocus Pocus
Winnie the Witch Says
Casper's Candy Hunt
Monster Munch
With all of these ghoulish goings-on, it's lucky that our children's entertainer's aren't scary in the slightest. In fact, they're there to greet you with a smile and make sure that everybody enjoys the party as much as possible. Our kids' entertainers are all fully qualified and DBS checked, so you can feel safe leaving your party guests in their extremely capable hands.
With our Spook-tacular Monster Party, your little ones will be made to feel like royalty. If there happens to be a birthday boy or girl in the house, they'll be invited to lead their friends on a birthday march and chant to the dinner table. They'll also be invited to start each party game.
Points For Prizes
When it comes to throwing a children's party, particularly where young kids are involved, you've got to make sure that everybody feels valued and included. Whilst it's okay to reward and encourage a certain degree of competition, you've also got to be careful not to alienate those who aren't so competitive.
At a DNA Kids party, everybody is given the chance to win sweets and prizes. We supply both of these things and it's the job of our entertainer to make sure that they're distributed evenly. For more information on what is included in our Spook-Tacular Monster party package, click here.
We're Not Scary!
We will always make it our responsibility to put your mind at ease, no matter whether it's the nature of the party games or the specially selected music that you're not sure about. We provide written confirmation of booking, PLI cover, PAT tested disco equipment, lights and smoke, snow or bubble machine.
In the event of unexpected illness or accident, we will organise a replacement entertainer for your event. It's not your job to worry about the logistics, it's your job to take the credit for a super Halloween party!
The Right Time
We run our DNA Kids party packages on every day of the week. The Saturday and Sunday time slots, however, tend to fill up quickly – if you do want to throw a party at the weekend, book early! Whilst the Spook-tacular Monster Party package usually lasts two hours, it is also possible to book a one hour party.
If you book a Saturday evening time slot, we'll upgrade your party to a FX Light-show or UV Light-show Upgrade for no extra cost! You must allow 30 minutes either side of the event for setting up and down.
To find out more about the Spook-tacular Monster Party package, to get a quote or make a booking, please call our friendly kids party advisors on 01245 401401.
×
Login to My DNA Kids
Please enter your booking reference and password below. You can find these on your booking confirmation email.
×
Forgotten Password
Please enter your email address below...
×
Forgotten Password
Thank you. We have emailed you details of how to reset your password if your email address matches one of our parties.
If you can't find the email, please check your spam folder.
×